Atomic Beam Light Angel is a cordless LED with a motion activated light. Does it really work? Here is my Atomic Beam Light Angel review.
Sponsored Links
About Atomic Beam Light Angel
Atomic Beam Light Angel is an LED light that is motion-activated and will automatically shut off after one minute. The official product website is lightangel.com, which was registered in December 2003. The screenshot below shows how the product website looked in January 2018.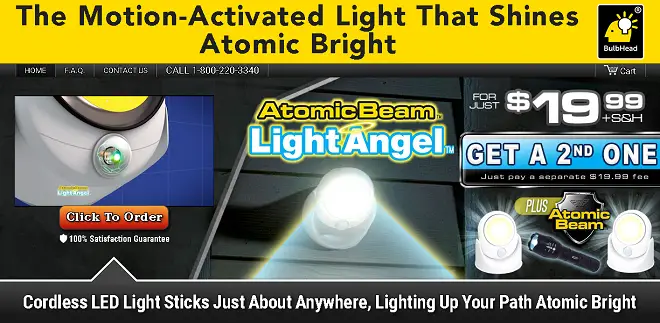 Claims & Features
COB LED panels (lasts for over 100,000 hours)
Use to light walkways, driveways, and doorways
360-degree tilt and rotation
650 square foot range (over 450 Lumens)
Simple installation (just peel the adhesive and stick to flat surface)
Weather resistant
Cost
The Atomic Beam Light Angel costs $19.99 + $7.99 shipping for a total of $27.98. There is an optional double offer that costs $39.98 + $7.99 shipping for a total of $47.97. An Atomic Beam flashlight also comes with the double offer. At the time of this writing, Atomic Beam Light Angel is not available in stores.
Atomic Beam Light Angel Review
I recently noticed an ad for Atomic Beam Light Angel which looked very familiar. Not only did the product and name look familiar, so did the actual wording used in the commercial. That's because Light Angel was a heavily-advertised As Seen on TV product about 5 years ago featuring pitchman Anthony Sullivan. Now the product has been rebranded under the Atomic Beam name featuring that brand's pitchman Hunter Ellis.
Sponsored Links
Light Angel is a stick-up motion-activated LED light that can be swiveled to point in your desired direction. Because it runs on batteries, there is no exhaustive installation required.  You simply peel and stick, or optionally add a few nails and hang it. The motion sensor should reach at least 10 feet.
Watching both commercials side by side reveals that not only have they re-used some of the footage from the original ad, but much of the original script has been retained in the newer version. Where the two scripts differ is in the features that have been changed or updated. The most notable improvement is probably the lights themselves. While the original had standard LED bulbs, the new incarnation sports a 450-lumen COB LED panel. Instead of three small adhesive strips found in the earlier model, the Atomic Beam version has one large strip.
Keep in mind that the adhesive will probably degrade quickly if you decide to move the unit after it has been mounted. There are three mounting holes in the back, which I would prefer over using an adhesive.
The good news is that the original Light Angel is still around and actually boasts pretty solid consumer ratings. The chief complaint about the original is that it wasn't very bright, which is the primary improvement with this new Atomic Beam offering.
Although Atomic Beam Light Angel seems to be in the test marketing phase at the moment, I have high expectations that it will eventually go into full production and hit store shelves. I say that because the makers seemed to have fixed the only fault in an otherwise well-received item.
Alternatives
This $16 model called Light It is currently listed as an Amazon's Choice and has surpassed the coveted 4-star rating mark among thousands of consumers. If you don't mind paying a little more, this $43 three-pack by Mr. Beams has an impressive rating from over 6,000 reviews because of its bright LED spotlight and versatility.
Related Videos
Here is a playlist featuring all of my "lighted" As Seen on TV product reviews. Below that you can find the Anthony Sullivan commercial for the original Light Angel.
Your Atomic Beam Light Angel Reviews
Have you used Atomic Beam Light Angel or something like it? Leave a comment below and a star rating above to let us know your thoughts.