Atomic Blade is a men's shaving razor that is made entirely from metal. Does it work as advertised? Here is our Atomic Blade review.
Sponsored Links
About Atomic Blade
Atomic Blade is an all-metal razor that features a long handle and the ability to adjust the angle of the stainless steel blade. The official website is buyatomicblade.com, with a registration date of February 2017. The screen capture below was taken of the product website in August 2017.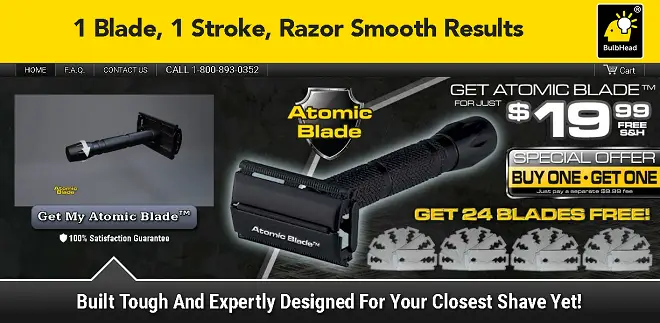 Claims & Features
Used for shaving
Get a superior shave and additional comfort with the 25% longer handle
Manufactured from metal with stainless steel blades
Does not require shaving cream
Customize shaving with the adjustable blade
Cost
Atomic Blade costs $19.99. It comes with 24 blades. There is an optional double offer that costs $29.98. The double offer comes with 48 blades. Shipping is free on both offers. At the time of this writing, Atomic Blade is not available in stores.
Atomic Blade Review
If the advertising for Atomic Blade looks familiar, you probably aren't mistaken. In fact it probably reminds you of several television commercials in recent years. First, pitchman Hunter Ellis has been seen in a number of "Atomic" branded items, from Atomic Beam to Atomic Beam Headlight. Additionally, there was another As Seen on TV razor heavily advertised about four years ago (that one pitched by Rick Harrison of Pawn Stars) called Micro Touch One.
Oddly, neither the commercial nor the website use the word "safety razor" to describe Atomic Blade, even though that's exactly what it is. Any shaving aficionado will tell you that safety razors are superior to cartridge razors, and that replacement blades for these razors can cost cents. So in that respect, the advertising for Atomic Blade is spot on. This will indeed out-perform the average cartridge razor, it costs less, and it only uses one blade that is easy to replace.
Sponsored Links
What the advertising doesn't really tell you is that safety razors fell out of favor for a reason. Men have become accustomed to mindlessly shaving as quickly as possible, but with a safety razor like Atomic Blade, you need to slow down a bit and pay a bit more attention. While that sounds simple, speed and attention are apparently two luxuries that many modern men don't want to forfeit. I've gone back and forth between cartridge razors and safety razors for years. Whenever I switch back to a safety razor, I'm always reminded how easily it cuts through stubble and how inexpensive the blades are. I also tend to cut myself more because I'm not used to the delicate technique as compared to the mostly automatic motions I use with cartridge razors.
In the end, Atomic Blade appears to be a standard safety razor, which is a shaving device many modern men are not familiar with. If you've never made the switch, keep in mind that there is a learning curve involved, and its much easier to cut yourself if you aren't paying attention. That said, Atomic Blade is moderately priced, placing it around the middle of the pack cost-wise.
There are 24 blades included in the television offer if you don't "double" it (and I suggest never doubling TV offers because of the nonrefundable shipping charges). If you aren't happy with the blades, keep in mind that you can find high quality inexpensive replacement blades locally or online.
The commercial states that you can use Atomic Blade without shaving cream, which I don't recommend at all. It has been my experience that you need to condition your skin (I use a hot towel) before shaving with a safety razor, and using a high quality shaving cream or gel. You'll use less pressure than you would with a disposable razor, too. It may take several attempts before you learn the nuances of shaving with a safety razor. Short strokes, with the grain, using very little pressure, at a 45-degree angle is how I'd best describe my safety razor technique.
Atomic Blade has been test marketed on and off throughout the summer, and I'm not sure if this has made it into a full production run yet. That means that shipping could be slow, and it could even disappear if consumer response isn't strong. I'll continue to monitor this product and update this space if anything changes.
Alternatives
There is no shortage of safety razors to be found online and in stores, and there are some pretty popular items out there. This Vikings Blade has an impressive 4.7 star rating among over 3,000 reviews, while this Merkur Long Handled Safety Razor has a 4.5 star mark from over 5,500 consumer ratings.
Your Atomic Blade Reviews
What are your thoughts about Atomic Blade? Drop a comment below and a star rating above to let us know what you think about it.