Bulb on a Rope is a battery-powered light bulb that can be used anywhere. Does it work? Read our Bulb on a Rope review.
Sponsored Links
About Bulb on a Rope
Bulb on a Rope is a battery-powered light bulb at the end of a four foot rope.
The official product website is bulbonarope.com, with a registration date of September 2016. Below is a screen shot of the official website taken in November 2016.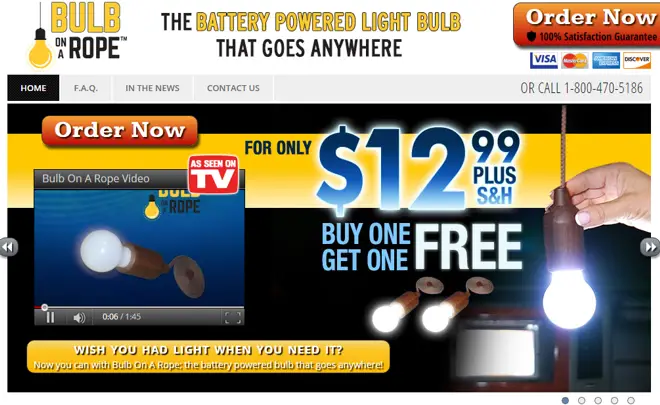 Claims & Features
Battery powered light bulb
Activated by pulling on four foot long cord
Weather-proof
Wood finish matches any decor
Stays cool to the touch
Shatterproof
Can be used as a flashlight
Cost
You can get this item for $12.99 plus $6.99 shipping. A second unit is included for no extra charge.
Sponsored Links
As of this writing, Bulb on a Rope is not available in stores.
Bulb on a Rope Review
Bulb on a Rope is a battery-powered As Seen on TV light bulb that can be taken with you anywhere. It features a 4-foot rope which allows you to tie it in place and hang it to your desired height. To operate Bulb on a Rope, you simply pull the cord to turn the light on or off.
The design of Bulb on a Rope adds adjustable height to older designs which have been advertised on television in recent years. Those older models were mounted using screws or a sticky backing. The ability to tie it, rather than stick it, is a potentially a huge plus over similar bulbs, as sticky surfaces tend to degrade quickly over time. Further, the long cord allows you to tie it off to hang in the exact location that you need it.
You may find that Bulb on a Rope isn't particularly large or bright, but there are some instances when a little light is all that's needed. It probably can't compete with brighter LED lights on the market, but the four-foot cord does offer a unique feature you probably won't find anywhere else.
If the convenience of tying your bulb is greater than that of brightness, Bulb on a Rope may be a good fit for you.
Alternatives
There have been quite a few As Seen on TV portable light bulbs in recent years. You may remember Anthony Sullivan pitching Insta Bulb a few years ago, which you can still get for about $14 for two, although consumer reviews are not impressive.
This push sensor light is an Amazon best seller, and you get three for about $18.
This rechargeable light bulb uses 24 LED lights powered by a 4000mAh Lithium battery and offers 360 lumens.
Television Commercial
Your Bulb on a Rope Reviews
Have you used Bulb on a Rope? Give us your thoughts by leaving a comment below and a star rating above.