Copper Top Lights are solar-powered lights which provide light to dark areas outside the home. Read our Copper Top Lights review.
Sponsored Links
About Copper Top Lights
Copper Top Lights are mounted, solar-powered overhead outdoor lights which can be installed to any home without the need for tools or wires. The official product website is coppertoplights.com, which was registered in March 2016. The screen capture below shows how the official website appeared in September 2016.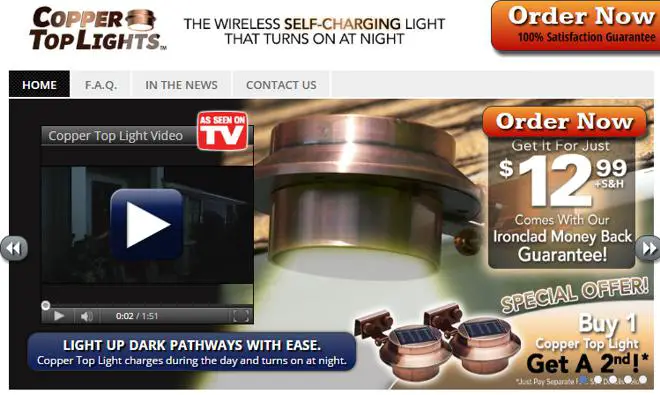 Claims & Features
Solar powered
Easy to install, no tools or wires
Good for landscapes, front doors, or pathways
Charges during the day and turns on at night
Tilting neck allows for adjustment of angle
Bracket attaches to home's gutter
Cost
You can get one Copper Top Light for $12.99 + $6.99 shipping for a total cost of $19.98. There is a double offer for $12.99 + $6.99 shipping + another $6.99 fee, totaling $26.97 for two lights.
There is a 30 day money back guarantee, minus shipping costs. As of this writing, Copper Top Lights are not available in stores.
Sponsored Links
Copper Top Lights Review
Copper Top Lights could be described as outdoor solar porch lights. They are hung on the home's gutter, and work automatically – recharging all day in the sun, then illuminating at night. It features three bright LED bulbs which will rival that of soft porch lights, but can be installed without the hassle of tools or wires. Installation involves simply placing a bracket over your home's gutter, and then hand-tightening.
We like the attractive design and its soft glow. If there are dark areas around your home without existing lights, this could be an excellent way to improve lighting around your property without a complicated or expensive installation of standard lights.
When you're away, or during a power outage, Copper Top Lights will continue to work automatically.
The actual light portion may be smaller than it appears in the advertising, measuring about the size of the palm of your hand. The three LEDs should be sufficient for everyday use, although it may not be able to rival the brightness of some competing products which contain as many as 36 LEDs (see below).
There are a few caveats which must be mentioned. Perhaps the biggest potential "con" is how Copper Top Light attaches to the home. There is a bracket which is designed to fit over a home's gutters. Gutters aren't common in some areas of the country, such as here in Las Vegas. In those cases, mounting of Copper Top Lights could be problematic, if not impossible.
Another area of concern is not unique to Copper Top Lights, but all solar path lights, and that is of battery life. Anyone who has used outdoor solar lights knows that life of rechargeable batteries included in these devices can vary greatly, from months to years. It's too soon to tell how Copper Top Lights fare in that department.
Overall, Copper Top Lights sport and attractive and simple design which should perform about as advertised. Whether or not this product can stand out in an already-crowded field remains to be seen.
Alternatives
Copper Top Lights could be described as solar porch lights, and there are a number of similar items, with a wide range of designs and prices.  A popular option online is the Creative Design outdoor solar light, which sports a significantly different design, but retains a similar function.
Your Copper Top Lights Reviews
Have you used Copper Top Lights, or are you considering buying it? Tell us what you think in the comments below and leave a star rating above.