Foam You is a dry foam cleaner that helps to eliminate stains from carpet. Does it really work? Here is my Foam You review.
Sponsored Links
About Foam You
Foam You is a concentrated dry foam carpet stain remover that encases dirt and then dries into solid crystals which can then be vacuumed up. The official product website is foamyou.com, which was registered in August 2017. The screenshot below shows how the product website looked in November 2017.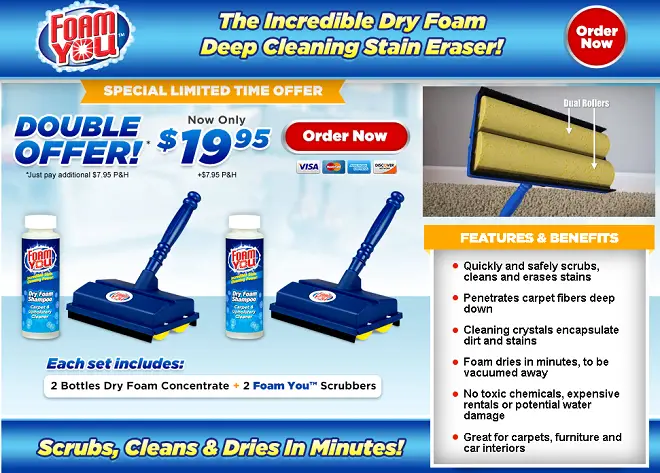 Claims & Features
Rapidly cleans and removes stains
Deeply permeates carpet fibers
Foam surrounds dirt and hardens into crystals
Crystals can then be vacuumed up after drying for several minutes
Environmentally safe (no toxic chemicals)
Avoid renting cleaners and possible water damage
Ideal for carpets, furniture, and vehicle interiors
Cost
There is a mandatory double offer when purchasing Foam You. The cost is $19.95 + $7.95 P&H + $7.95 double offer for a total of $35.85. Each order includes 2 bottles of dry foam concentrate and 2 dual roller foam scrubbers. At the time of this writing, Foam You is not available in stores. Note: As of this writing, the offer details claim the price is $19.95 + $6.95 P&H + $4.95 double offer for a total of $31.85, yet the order processing form contains the differing prices listed above.
Foam You Review
Foam You is a cleaning system for carpet stains. It consists of two parts: A dry foam concentrate, and a roller brush that helps scrub and pick up stains. Dry foam is an established method for cleaning carpets, either with machines for large areas, or with a handheld brush for spot cleaning. Foam You is primarily marketed to those who need to remove stains, rather than treating a large area.
Sponsored Links
To use Foam You, you'll simply dilute a cap of the liquid in water, then place the scrubber's roller pads in the solution, squeeze out the excess liquid, and scrub the area you wish to treat. The best way to scrub is to use one hand to move the handle, and another hand to apply pressure to the scrubber in order to help deep clean. Once you have sufficiently scrubbed the area, you'll need to let it fully dry, then vacuum up the remaining crystals.
As noted earlier, dry foam cleaning is not new – and it's not completely dry when you apply it. You may want to follow some steps to ensure the best results, such as vacuuming the area to be treated beforehand, and making sure the foam has completely dried before vacuuming it afterward. If you don't get optimal results, you can repeat the process. If you do re-treat an area, I recommend scrubbing diagonal or perpendicular to the angle you used the first time.
Foam You uses an established method of cleaning carpets, but every combination of stain and carpeting are different, so your results could vary from those shown in the advertising. I've used dry foam with brushes and large carpet cleaners in the past, and generally it works well – depending on the carpet and the type of stain. There is also a chance of residue, which could accelerate soil buildup, if the foam is not completely extracted.
I'd also suggest testing out a little Foam You in an inconspicuous area first before attempting to use it in a highly visible area.
Based on the product website's August 2017 registration date, it is my assumption that Foam You is currently being test marketed. It has been my experience that test marketed items are notoriously slow to ship, as I explain in the short video below.
If you don't want to wait, however, you could easily find similar products that will ship quickly on Amazon. For example, this $14 32-ounce Dry Foam Shampoo could be combined with this $5 dry shampoo brush for about the same price (without shipping if you're on Amazon Prime), and arrive in a day or two. It may pay to shop around.
If you're looking for additional cleaning products, you may find my full review of the Shark IonFlex of interest, which I've embedded below.
Your Foam You Reviews
Have you used Foam You or something like it? Leave a comment below and a star rating above to let us know your thoughts.