Gotham Steel Pancake Bonanza is a double-sided pancake maker with a nonstick surface. Does it really work? Here is my Gotham Steel Pancake Bonanza review.
Sponsored Links
About Gotham Steel Pancake Bonanza
Gotham Steel Pancake Bonanza is a double-domed nonstick baking pan that can be used to make a variety of breakfast foods. The official product website is buypancakebonanza.com, which was registered in December 2017. The screenshot below shows how the product website looked in March 2018.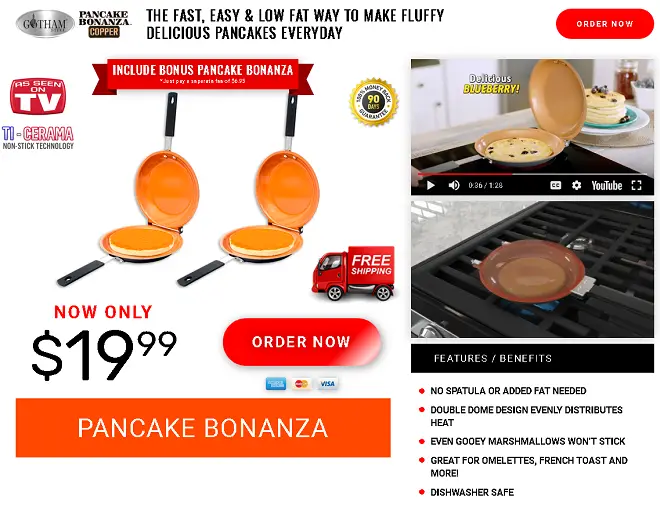 Claims & Features
Does not require butter, oil, or a spatula
Heat is evenly distributed
Nonstick surface
Ideal for omelets, French toast, grilled cheese,  etc.
Safe for dishwasher
Cost
The Gotham Steel Pancake Bonanza costs $19.99. There is an optional double offer for a separate fee of $6.95 which would raise the total to $26.94. Shipping is free on both offers. At the time of this writing, the Gotham Steel Pancake Bonanza is not available in stores.
Gotham Steel Pancake Bonanza Review
The As Seen on TV genre is famous for many things, including the creation of products which can be too specialized, despite advertising that often makes them appear more versatile than they really are. That brings me to today's product, the Gotham Steel Pancake Bonanza, a double-dome pan that is said to make the process of creating pancakes a snap.
To use the Gotham Steel Pancake Bonanza, you simply pour in your batter and let the ingredients heat up. Instead of using a spatula to flip the pancake, you grab both handles and flip the entire unit over to heat the other side. It's a rather basic but effective design. In addition to pancakes, you can also use the Pancake Bonanza to create omelets, grilled cheese sandwiches, and more.
I've used several Gotham Steel products (as well as similar items by competitors) and I've found the nonstick surface to be excellent, although I feel that they need a bit more care to retain their nonstick properties than the advertising implies. Keeping the heat low, letting it cool slightly (not completely) before washing, and avoiding abrasives should help your nonstick surface last. Cranking the heat up to high is a good way to quickly degrade this new generation of nonstick surfaces. Although Pancake Bonanza is dishwasher safe, I tend to err on the side of caution with all of these new nonstick surfaces by washing them by hand, using only warm soapy water.
Sponsored Links
A lot of As Seen on TV kitchen gadgets tend to be advertised as highly versatile, but I've found most of them end up being a single-use product for me. I can see the Pancake Bonanza being used for pancakes, eggs, and sandwiches, but probably not much beyond that. Also keep in mind that you can only make one pancake at a time, which is great if you're feeding one person, but it could be tedious if you're hoping to produce enough for a family.
If the design of a double-sided pan seems familiar, you aren't mistaken. Several years ago there was a nearly identical product called the Orgreenic Flip Jack, which has yielded a number of knockoffs that are still available, none of which seem to be to the satisfaction of consumers. More recently the Red Copper Flipwich hit the airwaves (and later store shelves), which also sports a similar design. The primary difference between the Red Copper product and the other designs is that it is square and has a raised grilling surface. That would probably make it less desirable for making pancakes. Despite the advertising that makes Red Copper Flipwhich seem highly versatile, I found that it is basically a one-purpose grilled-cheese maker.
You can see my video for the Red Copper Flipwich below.
Television Commercial
Here is the television commercial for the Gotham Steel Pancake Bonanza.
Your Gotham Steel Pancake Bonanza Reviews
Have you used Gotham Steel Pancake Bonanza or something like it? Let me know your thoughts in the comments below.