Fushigi is a novelty ball that appears to defy gravity and move by itself in your hands. Does it really work? Here is my Fushigi review.
Sponsored Links
About Fushigi
Fushigi is a solid transparent sphere used for contact juggling. Practice can make it appear to float and move on its own through the hands. The official product website is fushigiball.com, which was registered in January 2010. The screenshot below shows how the product website looked in October 2017.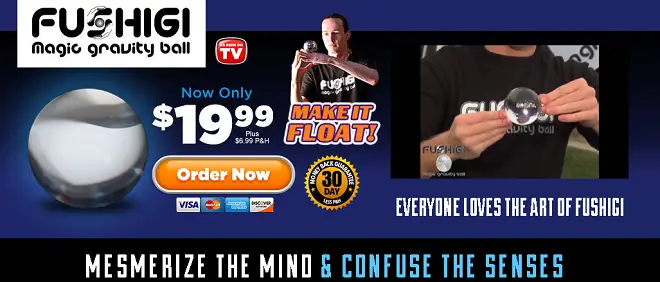 Claims & Features
Appears to float and levitate
Perform multiple tricks
Relaxing and therapeutic
Fun for all ages
30 day money back guarantee (minus P&H)
Cost
A Fushigi Ball costs $19.99 + $6.99 P&H for a total of $26.98. It comes with an instructive DVD. At the time of this writing, Fushigi is not available in stores.
Fushigi Review
Fushigi is a clear ball that appears to defy gravity, and is described as the magic gravity ball. If the commercial for Fushigi Ball seems familiar, you've probably seen ads for it in years past because this product has been around since at least 2010, and seems to advertise every year before the holidays.
Although the commercial makes it look like anyone can simply pick up a Fushigi and immediately perform impressive illusions, it won't be so simple for most people. That's because this is a contact juggling ball, and the illusion is in the hands of the performer. There is no trick or mechanism that makes this ball special.
Sponsored Links
Contact juggling takes time, practice, and patience. The ball itself is simply the tool which performers use. And as a contact juggling ball, this is priced about the middle of the pack. To be clear, the ball does not float, nor is there a hidden device to help make it appear to float. It is a clear ball with a silver center ball, and that's it. There was an anti-gravity ball advertised in recent years that did have a string on it, but Fushigi is not like that.
If you are looking to learn contact juggling, this could be a good starting point – along with some patience, and perhaps a heavy dose of "how to" videos on YouTube.
Because Fushigi Ball has been around for so long, it is easy to find customer reviews, and unfortunately they aren't very good. On Amazon it currently holds a 3.1 star rating, and almost half of the ratings are one star. The reason for this rating seems to fall into two camps: Issues with the ball itself, and failed expectations due to marketing.
Regarding the ball itself, some have complained that there are imperfections, such as the center silver ball being slightly off-center, which can ruin the illusion. Others have said "it's just a ball" – which it is. A lot of consumers seemed to buy into the marketing and believed there was something special about Fushigi Ball that would make it appear to float. That is not helped by the fact that it is described as a "magic gravity ball" when really it is just a ball. Thus, the "magic" behind Fushigi is the practice put into performing rather than anything special about the ball.
If you have wanted to learn contact juggling, Fushigi may be a good fit for you. If, however, you are expecting a magic trick with wires or some other mechanism, you will be disappointed.
Alternatives
If you are just looking for a contact juggling ball, this $17 model sports high ratings and can be shipped via Amazon Prime, while this slightly more expensive model is currently listed as an Amazon's Choice.
If you're looking for a floating ball, you may be interested in my video review of Whirly Ball.
Television Commercial
Your Fushigi Reviews
Have you used Fushigi or something like it? Leave a comment below and a star rating above to let us know your thoughts.