Hurricane In and Out Mop is a mopping system with a dual chamber washing and drying bucket. Does it really work? Here is my Hurricane In and Out Mop review.
Sponsored Links
About Hurricane In and Out Mop
Hurricane In and Out Mop is a mop that features a swiveling head, the ability to attach reusable microfiber pads, and a dual chambered bucket. The official product website is inandoutmop.com, which was registered in August 2017. The screenshot below shows how the product website looked in March 2018.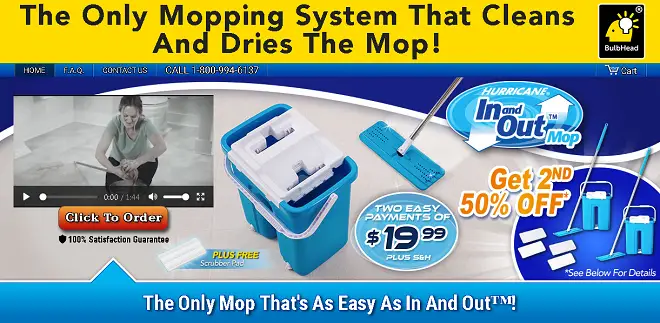 Claims & Features
Mops flooring
Dual chamber bucket (one for washing and one for drying)
Rotating head to clean hard to reach places
Long-lasting microfiber pads
Ideal for any type of floor
Cost
The Hurricane In and Out Mop costs $39.98 + $9.99 shipping for a total of $49.97. There is an optional double offer for $59.97 + $9.99 shipping for a total of $69.96. Payment can be made in two installments or be paid in full. Each unit comes with a scrubber pad and dual chamber bucket. At the time of this writing, Hurricane In and Out Mop is not available in stores.
Sponsored Links
Hurricane In and Out Mop Review
It always pleases me to see the latest and greatest "Hurricane" branded product to hit the market. You may have seen ads in recent years for the Hurricane Spin Mop, Hurricane Spin Scrubber, Hurricane Fur Wizard, or Hurricane Spin Duster. Now the newest member of the family is the Hurricane In and Out Mop.
The product consists of a flat mop and dual-chamber bucket that allows you to clean and dry the mop by simply inserting it into the unit. The mop itself does not seem extraordinary, but the bucket is where the magic happens. Ironically, I said almost the exact same thing about the Hurricane Fur Wizard. That product is basically a standard lint brush, but with a base that cleans it off easily, and that is where I felt the value was. In the case of the Hurricane In and Out Mop, the ability to clean and dry the mop in separate chambers is quite useful.
The single biggest caveat with this or any other mop is the longevity of the pad itself. There are two pads included (microfiber pad and scrubber pad), which should help extend the life of this product. Even though the pads are touted as washable and reusable, that should be taken with a grain of salt. I have yet to see a mop pad of this type that lasts over several washings before its performance is affected.
My biggest issue with As Seen on TV cleaning products that use handles is that they are notoriously flimsy. It's hard to say at this early stage if the handle will be strong enough to satisfy most consumers. That will be something I'll keep an eye on over time.
I think its "self-wringing" function is the product's most unique design feature. This is a much better way to wring out the pad than squeezing or dunking in a bucket full of dirty water. In fact, the wringer may actually help make the pads last longer than other cleaning methods.
Hurricane In and Out Mop isn't available in stores, and it's also a relatively new item. That means you should expect to wait weeks for it to arrive. It appears to be test marketed, which means the name, price, or even design could change over time. I'll update this space as more information becomes available.
Alternatives
There have been some very popular successors to the Hurricane Spin Mop, such as this $30 model that holds an impressive 4.3-star rating among over 6,000 consumer reviews. You may also be interested in something like this Norwex Double-Sided Wet and Drop Mop, which is a solid product, but significantly more expensive. On the other end of the spectrum, you can find relatively cheap "flip mops" like this one for as low as about $18.
Your Hurricane In and Out Mop Reviews
Have you used Hurricane In and Out Mop or something like it? Leave a comment below and a star rating above to let us know your thoughts.