Lash Ease is an eyelash dispenser and applicator all-in-one. Does it work as advertised? Here is our Lash Ease review.
Sponsored Links
About Lash Ease
Lash Ease is a self-contained eyelash applicator and dispenser that quickly applies lashes. The official website is getlashease.com, with a registration date of April 2017. The screen capture below was taken of the product website in June 2017.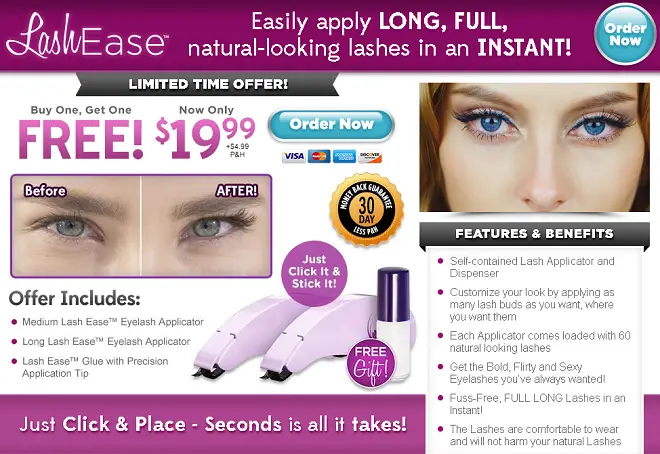 Claims & Features
Combined lash applicator & dispenser
Modify the quantity & position of lash buds to customize appearance
60 lashes included in each applicator
Instant application of salon quality lashes
Safe & comfortable
Cost
When ordering Lash Ease, there is a mandatory double offer. It costs $19.99 + $4.99 for the mandatory double offer + $4.99 P&H for a total of $29.97. The offer includes a Medium Lash Ease eyelash applicator, a Long Lash Ease eyelash applicator, and Lash Ease glue with a precision application tip. At the time of this writing, this offer is not available in stores.
Sponsored Links
Lash Ease Review
Lash Ease is an eyelash dispenser and applicator combined into a single unit. The design of the product looks a little like one of those White Out guns I used to use in an office, but obviously offers a different function. Each applicator comes with 60 lashes, and I don't believe there is a way to reload it once the supply is exhausted.
To use Lash Ease, you simply slide the dispenser button upward to reveal a lash to be applied. You then "click" the lash into a ready position, apply glue, and gently put it in place.
On the good side of it, Lash Ease does reduce the need for two separate devices (applicator and dispenser), so in that respect, there is an "ease" to Lash Ease. Another potential plus is that the larger apparatus could be easier for someone with shaky hands or those who have problems gripping a pair of tweezers.
Now for the potential cons. First, the "double offer" price for two units makes this about $30, which is considerably more expensive than a pack of regular lashes. Next, after you run out of your 60 lashes, you'll need to buy another unit.
Perhaps the biggest question is whether Lash Ease is better than a pair of tweezers and the old fashioned way. I'm not sure all consumers will feel that it's necessarily better, but it is different. There is a bit of a novelty aspect to it, as well as a learning curve. I have no doubt that some women will like this, but not everyone will be compelled to make the switch.
Alternatives
Lash Ease seems to be inspired by a product called Flirt Flashes, which sports a nearly identical design and function. That item had a surge in YouTube reviews in late 2016 and has somewhat disappeared since then, other than still being offered for sale on the company website. There are, of course, more traditional options, such as this 32 pack of trio lashes for a whopping $6.
Your Lash Ease Reviews
What are your thoughts about Lash Ease? Drop a comment below and a star rating above to let us know what you think about it.