Mighty Putty Purple is a purple putty designed to fix household items and stop leaks. Read our Mighty Putty Purple review plus key product information.
Sponsored Links
A few years ago, iconic pitchman Billy Mays was featured in television ads for a product called Mighty Putty. That product was met with mixed reviews. Now in 2014, with Mighty Putty Purple, we are seeing what appears to be successors to both the product and its spokesperson.
The new product is promoted by Marc Gill, who has had considerable face-time in As Seen on TV advertising over the past year.
The products appear to be quite similar, even down to the way they are advertised. In 2008, Billy Mays pulled an 80,000 pound truck with Mighty Putty, while in 2014 we see Marc Gill pulling a 340,000 pound jet.
In 2008, Billy Mays told us that Mighty Putty could "Fix, fill, and seal virtually anything fast, and make it last." In 2014, we hear Gill make the exact same statement. In fact, much of the two commercials use identical verbiage in their promotion of Mighty Putty and Mighty Putty Purple. Watch both commercials below to compare.
So it appears that Mighty Putty Purple is simply a colored variation of Mighty Putty. The official website makes no mention of its predecessor, nor does it claim that the formula has been improved in any way.
With that in mind, the same caveats which exist for Mighty Putty should be applied to Mighty Putty Purple. Not everyone will find that it performs magic as suggested by Marc Gill. This is because different people will want to use it for different fixes. We didn't find that Mighty Putty worked as well for hanging objects or stopping leaks, but it performed better for smaller, simpler repairs, such as the handle on a pot. There is a smell that emanates from the product, which not everyone will find pleasant.
In the end, you can visit a local hardware store and find several similar products lining the shelves, of varying costs and sizes.
Sponsored Links
For more durable fixes, you may want to take a look at FiberFix, which is in a different category, but far superior when fixing tools or heavily-used items.
Purchasing locally will avoid shipping costs and the "get a second one for additional processing" ploy. It will also give you a chance to compare prices and brands.
Tagline
Strongest, easiest way to fix, fill and seal fast and make it last!
Mighty Putty Purple "About" paragraph
This product is not a glue, but rather a "super powered epoxy" that can mold to any shape.
Official Website
mightyputtypurple.com
Registered August 27, 2013
Contact
Address: Mighty Putty Purple, Box 2020, North Wales, PA 19454
Phone: 800-340-3418
Email: [email protected]
Hours: 9am to 4pm
Claims/Features
Molds to any shape
Works on wood, metal, brick, glass, tile and more
Supports up to 350lbs
It's not a glue, but rather a super-powered epoxy
No more mixing or mess
Useful for fixing household items and furniture, and for stopping leaks
3-step process: Cut, Activate, and Apply
Cost
$10.00 plus $7.95 P&H for a total of $17.95
You can get another set of 3 sticks for "free" with another $7.95 for a grand total of $25.90.
Mighty Putty Purple Website Screenshot
Below is a screenshot of the official Mighty Putty Purple website, taken in January 2014.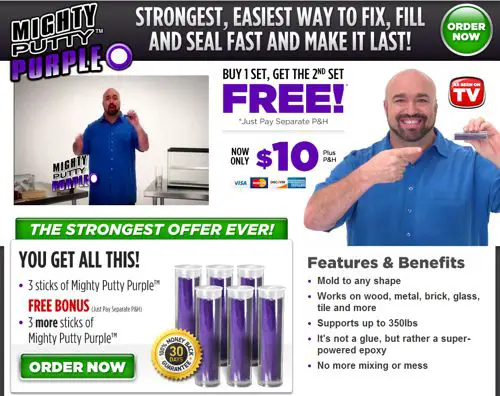 Television Commercial
Below are the television ads for Mighty Putty featuring Billy Mays, and the newer Mighty Putty Purple featuring Marc Gill. Compare the claims and verbiage used in both.
Mighty Putty Purple Reviews
Have you tried Mighty Putty Purple? Please give us your Mighty Putty Purple review in the comments below – and give it a star rating above.