Pancake Express is a 3-in-1 pancake mixer that allows you to mix, measure, and dispense. Read our Pancake Express review.
Sponsored Links
About Pancake Express
Pancake Express is a battery-powered pancake mixer that measures, mixes, and dispenses pancake batter without the mess. The product website is getpancakeexpress.com, which was registered in December 2015. The screen capture below shows the official website in March 2016.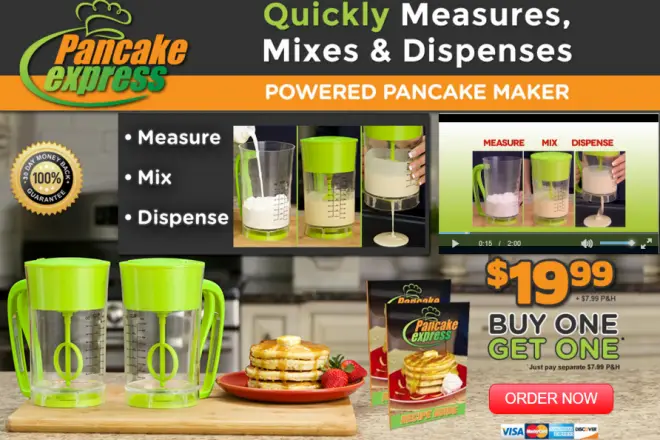 What They Claim
Measures, mixes, and dispenses mess-free
Quickly stirs and mixes
Battery-operated (batteries not included)
Built-in measurements
Great for pancakes, waffles, muffins, crepes, cupcakes, and more
Dispenses even portions neatly and accurately
Holds up to 32 ounces
Dishwasher safe
BPA free
Pancake Express Cost
You can get Pancake Express for $19.99 + $7.99 P&H, and you can't opt out of second Pancake Express for an additional $7.99 P&H. As of February 2017, you should be able to find Pancake Express in some stores for about $20-$25.
Reviews
Pancake Express has three functions required to making pancakes: measuring, mixing, and pouring. The commercial shows a flustered would-be chef spilling pancake batter everywhere, then compares that with Pancake Express, which cleanly dispenses perfectly-mixed batter with ease.
Sponsored Links
The extremes of each situation portrayed in the commercial may be exaggerated, but if you keep your expectations rather low (this is, after all, an As Seen on TV product), Pancake Express may just surprise you. The design is clever, allowing you to mix and pour from the same device. This is performed via a trigger that opens the bottom to release batter onto a griddle. Because you are pouring straight down, it is also easy to achieve nice, round pancakes.
Where a product like this has its biggest potential to fail would be in the strength of the battery-operated motor. How long batteries last will depend on the amount of batter you make and how often.
If you are an avid consumer of pancakes, Pancake Express may be worth considering. The current "double offer" puts your total cost at nearly $40, with about $16 of that in non-refundable shipping. For this reason, Pancake Express seems somewhat expensive for what in most people's kitchen would be an occasionally-used product. You may want to look for it in stores in order to sidestep shipping costs and delays.
The As Seen on TV store here in Las Vegas told us that Pancake Express was one of their biggest sellers in early 2017.
You may be interested in perusing other pancake dispensers on Amazon, as there are other options out there.
In short, the design is quite clever, but the cost of shipping for the double offer is unfortunate. Look for it in stores to get the best deal.
Your Pancake Express Reviews
Have you used Pancake Express? Give us your review by leaving a comment below and a star rating above.
Updated February 2017.