ShineScape Solar Lights are solar-powered decorative lights which can provide attractive outdoor lights without the hassle of extension cords. Read our ShineScape Solar Lights review.
Sponsored Links
About ShineScape Solar Lights
As of July 27 2016, the official ShineScape Solar Lights website is offline and the product is not currently available. The review below contains information as of June 30, 2016, when the product was still available.
ShineScape Solar Lights are decorative outdoor lights which charge throughout the day and illuminate your home or yard at night. The official product website is shinescape.com, which was registered in June 2016. The screenshot below shows the official website in June 2016.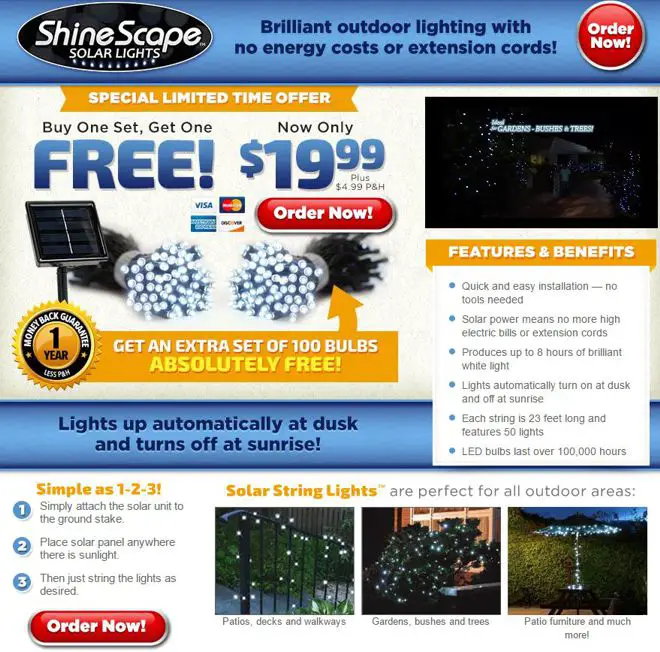 Claims and Features
Quick, easy to install
Solar powered, no batteries or extension cords
Lasts 8 hours per charge
Auto on/off
Strand is 23 feet long with 50 lights
LED bulbs last 100,000+ hours
Cost
ShineScape Solar Lights cost $19.99 + $4.99 P&H. An extra set of 100 bulbs is included at no extra charge.
As of this writing, this product is not available in stores. If you see it for sale locally, let us know in the comments below.
ShineScape Solar Lights Review
ShineScape Solar Lights are As Seen on TV solar-powered outdoor string lights. Several outdoor lights have been advertised in recent months, such as Star Shower Laser Lights or StarNight Laser. Those lights project onto a home from a single location and are powered through electric outlets. With ShineScape, however, we have solar powered string lights that can be placed in a variety of locations, and do not require outlets in order to work.
Sponsored Links
To use, you simply place the solar panel in the ground near where you want to place your lights. You then string the lights and let the solar panels charge. After fully charging, they will automatically switch on and night and switch off again in the morning. You should receive about 8 hours of light per night.
The design is simple yet elegant. If you've considered decorating the exterior of your home with lights, this may be ideal for you.
The idea behind ShineScape Solar Lights is similar to that of solar walkway lights which are commonplace. The ability to place lights without worrying about a nearby outlet or extension cord allows the consumer a wider flexibility when decorating.
There are no major "cons" regarding the product itself, although it does appear that – based on limited advertising and the website's recent date – this is probably a product being test marketed. That means that back orders and shipping delays are more likely. If and when this product becomes available in stores, it will be a more compelling buy without shipping delays and times.
You may want to compare ShineScape Solar Lights to the Amazon Best Seller in this category, the INST Solar Powered LED String Light. That product has a solid 4 star rating with nearly 1,000 reviews. It costs about $15 and offers over 50 feet of LED lights.
Television Commercial
Your ShineScape Solar Lights Reviews
If you've used ShineScape Solar Lights, please give us your opinion by leaving a comment below and a star rating above.