Twist Whisk is a new take on the traditional whisk. It can be used as a flat whisk or a balloon whisk by a simple turn of the handle. Today I offer my review of Twist Whisk.
Sponsored Links
Where to Purchase
You can pick up the Twist Whisk on Amazon for about $11 at this link. You can also order direct from the Joseph Joseph website for about $10 here.
Twist Whisk Review
I sometimes browse Amazon and other online outlets in search of unusual items, and I ran across the Twist Whisk many months before I actually tested it out. I bought it in January 2022 but never got around to tested it out until July. Since my review, it has been promoted to my primary whisk, for reasons I'll share below.
Twist Whisk is advertised as two whisks in one: a flat whisk for blending and a balloon whisk for whipping. Although its unusual ability to transform shapes is what draws attention, two of its other lesser touted benefits are perhaps just as important. Those benefits being the fact that it can lay flat for easy storage, and the silicone coated steel wires which allow you to use it in sensitive nonstick cookware.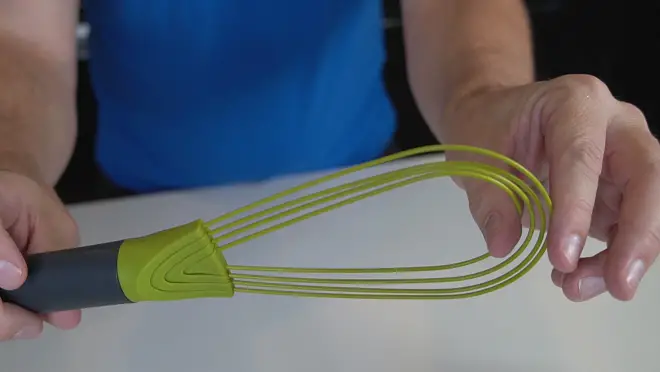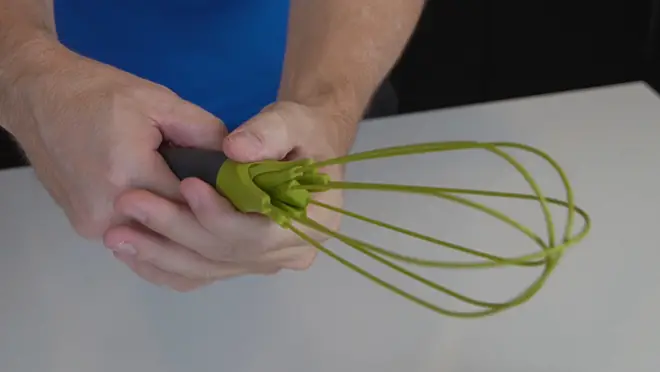 When I finally did test out Twist Whisk, I tried it for making scrambled eggs and for making pancakes. As a standard balloon whisk, it functions perfectly. In fact, the silicone coating makes it quieter while whisking and also won't scratch bowls or other cookware. The same can be said when using this as a flat whisk. It really functions like two separate tools, depending on the configuration being used. Out of curiosity – and because I know some viewers would ask – I tried it as a spatula for pancakes and it did not work well in that capacity. It's not advertised as such, but I was curious – and now I know. In its closed form, Twist Whisk loosely resembles the As Seen on TV Chef Wizard – which was advertised to be used as tongs, a flat whisk, and spatula – but the function of these two gadgets is not the same.
If you're looking for a new whisk to keep your cookware safe or you're just in the market for a replacement, I would certainly give this moderately-priced model by Joseph Joseph a look. I wouldn't go out of my way for it, but it's a nice addition to my drawer – and takes up much less room than its predecessor.