Ultra HD Clear Vision is an indoor digital TV antenna. Read our Ultra HD Clear Vision review plus additional product information.
Sponsored Links
About Ultra HD Clear Vision
Ultra HD Clear Vision is a free alternative to regular cable television.
What They Claim
Easily sets up in seconds
No monthly contracts or fees
Multi-directional; pulls signals from every direction
Full 1080p HD channels
Reusable and can be installed anywhere
Ultra HD Clear Vision Cost
$14.99 + $6.95 S&H; can't opt out of double offer for separate $6.95 S&H.
Reviews
Ever since Clear TV graced the airwaves a couple of years ago, promising free HD television, a host of similar products have hit the market – including Ultra HD Clear Vision.
Sponsored Links
Function-wise, what products like this offer is not unique over an old set of rabbit ears. They simply pick up over-the-air television signals broadcast in your area. Those channels will likely look better than cable because cable signals are compressed, while broadcast signals are not.
Where the product is limited is that you can only pick up broadcast channels, meaning no sports or news channels.
If you are looking to dump cable and downsize to an antenna, Ultra HD Clear Vision will do the job, and probably looks more stylish than a set of rabbit ears. There are, however, others on the market which can be found locally, so it may pay to shop around.
The product website is buyhdclearvision.com, which was registered in July 2015. The screen capture below shows the official website in October 2015.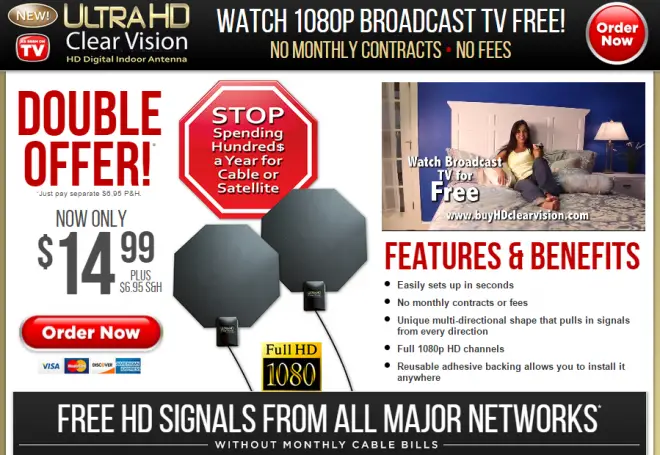 Your Ultra HD Clear Vision Reviews
Let us know what you think of Ultra HD Clear Vision by leaving a comment below and a star rating above.