Clear TV Key is an HD digital antenna by Clear TV. Read our Clear TV Key review plus additional product information.
Sponsored Links
About Clear TV Key
Clear TV Key is a small antenna which plugs into any TV which can pick up local broadcast shows. The product website is cleartvkey.com which was registered in August 2015. Originally the domain freetvkey.com was used, but it now forwards to the current domain. The screen capture below shows the original website in September 2015, when it was still marketed as "Free TV Key."
Note: I've still seen it advertised as "Free TV Key" on Spanish language television.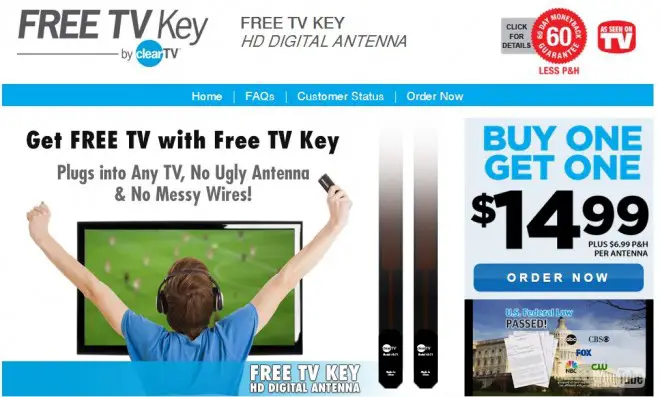 What They Claim
Works like old rabbit ears
Watch 100's of free HD channels
Works on any TV
No contracts
Clear picture
Discreet design
No wires
Easy to install
Free TV Key Cost
You can get Free TV Key from the official website for $19.99 + $7.99 shipping for a total cost of $27.98. You have the option of adding a second unit for another $7.99 shipping.
Reviews
When Clear TV hit the airwaves in 2013, it promised clear HD television that allowed you to bypass cable and satellite companies. While that was true, the reality of the product was that it was essentially no different than a standard television antenna which could be found at any Radio Shack. Despite this, Clear TV has been one of the longest advertised As Seen on TV products in recent years.
As the Clear TV advertising campaign started to wind down, the company found a new way to parlay their success into another product, called Clear TV Key. Sporting a different design than the original Clear TV, Clear TV Key is also basically just a standard TV antenna.
Sponsored Links
As noted above, when it was first marketed in late 2015, it was called Free TV Key, and that name can still be found in some Spanish language television ads.
You can in fact pick up local broadcast channels using this device (or any antenna), but you shouldn't expect to pick up any cable-only channels such as ESPN, Fox News, or CNN. You'll be limited to whatever channels are broadcast over the airwaves in your area.
If you live in an urban area, the channels may number in the dozens. Here in Las Vegas, I was able to pick up over 50 channels with Clear TV Key, although many of those had weak signals, or were of minimal interest.
Over the air broadcasts do typically look better than a compressed cable signal, so there may be instances where you'd want to view a signal over an antenna versus cable. That is, of course, assuming that your signal is strong. A weak signal can provide a choppy and unpleasant viewing experience.
It isn't clear if there are any significant between Clear TV Key and Clear TV, other than in its design. The function appears to be identical.
There are, of course, other options. You may want to consider such alternatives as the 1byone Amplified HDTV Antenna, which has over 12,000 ratings and holds a solid 3.9 star rating on Amazon.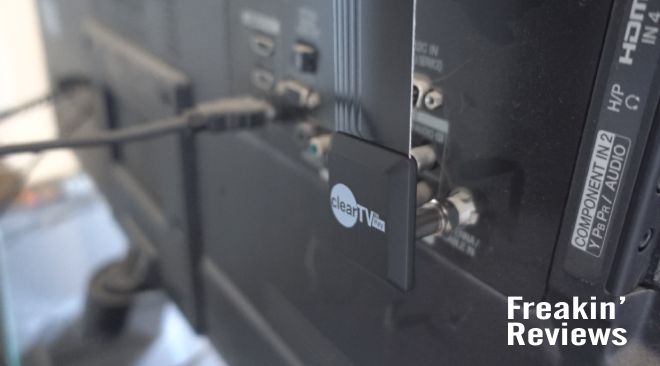 Free TV Key has a distinct advantage, and distinct disadvantage, over Clear TV and other antennas. It is superior in that it hides discreetly behind the television set, which keeps it out of view and leads to less clutter. A disadvantage is that because it plugs directly into the back of the set, you can't move it to try to achieve an optimum signal. There may also be a problem of clearance behind wall-mounted sets.
Television Commercial
Your Free TV Key Reviews
Let us know what you think of Free TV Key by leaving a comment below and a star rating above.
Updated April 2017.