Bionic Floodlight is an As Seen on TV motion-activated solar light. I put it to the test and today I offer my review.
Sponsored Links
Where to Purchase
You can pick up Bionic Floodlight from Amazon for about $30, where it currently boasts an Amazon's Choice label. You can also get it from the official website for the same price.
Claims & Features
Solar Power
Motion Activated
Adjustable Panels
Weatherproof
No wiring needed
108 high-intensity LED bulbs
Remote Control
Bionic Floodlight Review
When I first heard about the Bionic Floodlight, I was reminded of the Bionic Spotlight that I reviewed in late 2020. The two products seemed so similar that I initially decided to skip reviewing the newer model. After numerous viewer and reader requests, however, I decided to give it a try. I purchased the Bionic Floodlight directly from the official website for about $30 and it arrived 10 days later. It is also available on Amazon, which would have been faster for shipping, but I try to order directly from the manufacturer whenever possible to avoid any potentially fraudulent Amazon listings. (Watch this video for more of my thoughts regarding shady Amazon vendors here.)
Upon unboxing the Bionic Floodlight, it reminded me of the Bionic Spotlight, and seemed to be a logical upgrade from the original design. The Bionic Spotlight is still mounted on the front of my house, although it is a bit worn after two years of exposure to the elements.
The Bionic Floodlight can be mounted with a stake for ground use or with screws to be attached to a wall or eaves. For my first test, I tried it out in my yard using the stake. I let it charge outside all day and tested it that night. My initial impressions were that it wasn't very bright in my dark backyard. The motion detection easily detected movement 30 feet away, and the angle of motion detection was quite wide.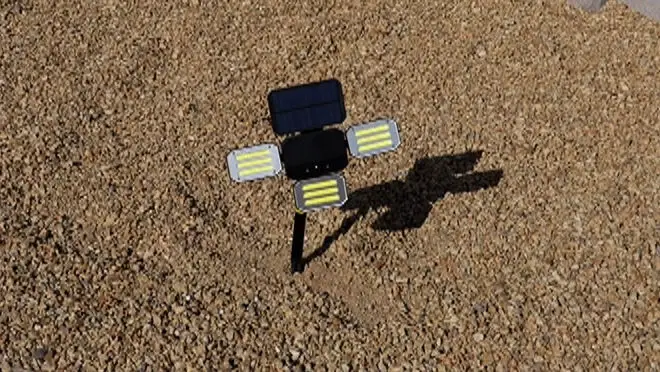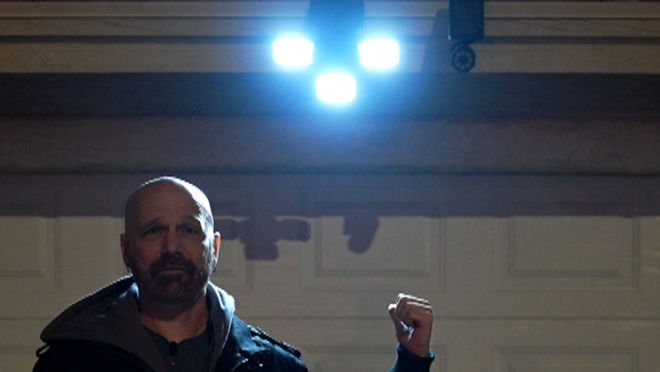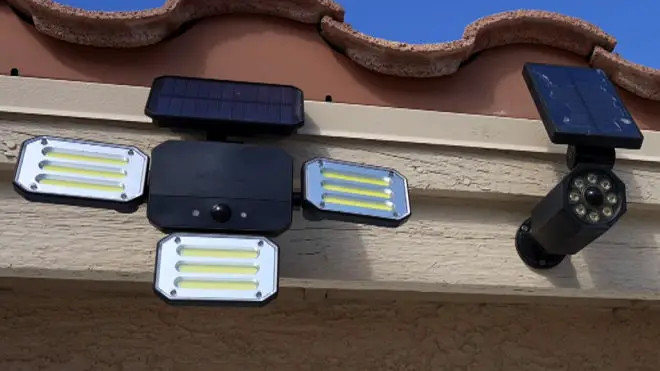 The Bionic Floodlight comes with a remote that has three options: Sensor mode (essentially an "ON" button), Off, and Strobe. Some Amazon commenters complained that their remotes did not work, but mine worked perfectly fine. Since most people will simply install the light and leave it on, I'm not sure the remote is a necessary accessory, but it is a nice addition to the overall package.
For my next test, I moved the Bionic Floodlight to the front of my house alongside its predecessor, the Bionic Spotlight. In the Northern Hemisphere, solar lights should be aimed south for optimal charging, and fortunately my house does face south. After mounting it on my house with the included screws, I waited until evening to test it again. My front yard is not as dark as my back yard, so the Bionic Floodlight seemed more suitable for that location. Once again, my tests yielded acceptable results with a wide angle of motion detection and a range of over 30 feet. Even though the instructions state that you shouldn't place the Bionic Floodlight next to another light source, I found that both Bionic lights worked fine only inches apart.
The instructions for both Bionic lights suggest bringing them in during the coldest months. Even though I live in the desert, we do get sub-freezing temperatures here every winter, and the Bionic Spotlight has performed well for two consecutive winters. I have every reason to believe the Bionic Floodlight will perform similarly. If you live in extremely cold environment, however, your experience may vary.
I took the Bionic Floodlight back out to my back yard and walked around with it in my hand like a flashlight. It occurred to me that the Bionic Floodlight didn't seem bright back there on my initial use because it was so close to the ground when mounted with the stake. Once I held it up off the ground, the light coverage was much better. It's not going to compete with a wired floodlight, but it does provide an acceptable amount of light considering it is charged with a solar panel. There may be instances where a ground/stake installation is ideal, but in my case this configuration yielded unimpressive results.
Overall, I think the Bionic Floodlight is a satisfactory outdoor light, though not necessarily exceptional. $30 seems to be a fair price, so I believe most people who purchase it will be satisfied.
If you've tried the Bionic Floodlight, let me know what you think in the comments below.