The Butterfly Abs toning system is a product which uses EMS Technology – or electronic muscle stimulation. It is claimed to build muscle by attaching a device to your abdominal muscles, which sends electronic signals to the muscles which make them contract and relax.
Sponsored Links
Official Website
butterflyabs.com
Registered June 3, 2008
Contact
Claims/Features
Rechargeable, no batteries
10 levels of intensity
6 workout programs
Pads are washable and last up to 30 sessions
"FDA Cleared"
Not to be used with pacemakers or heart condition
Sponsored Links
Cost
$39.99 plus $9.95 processing & handling = $49.94
Includes 4 reusable toning pads, USB charger, rechargeable EMS unit, nutrition guide
4-6 weeks for delivery
60-day money-back guarantee
Screenshot
Below is a screen shot of the official website, taken in October 2013.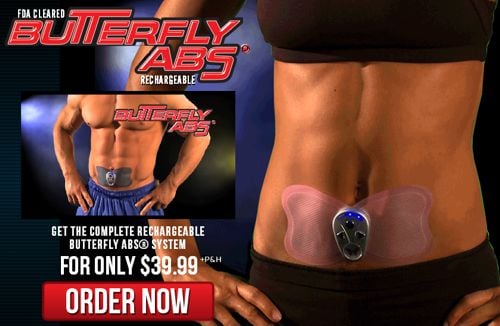 Television Commercial
Butterfly Abs Reviews
Have you tried Butterfly Abs? Leave a comment below, and give it a star rating above!