Pet Command is a sonic pet training and anti-bark system advertised on television.
Sponsored Links
About Pet Command
With a push of a button, you can supposedly help your pet quickly and easily get rid of old bad habits with Pet Command. This product has only been spotted advertising very recently, and appears to be a new version of (or replacement for) Bark Off, which was advertised heavily on television a few years ago. That product can still be seen in stores such as Bed, Bath, and Beyond, but it appears that item is being phased out in the wake of some rather harsh reviews online, including being labeled a "rip off" by Inside Edition.
Can Pet Command improve upon Bark Off's bad reputation for As Seen on TV sonic frequency control pet products?
Official Website
buypetcommand.com
Registered October 2, 2013
Contact
Phone: 855-721-3338
Web: Customerstatus.com
Hours: 8am-8pm EST
Sponsored Links
Claims & Features
Quick and easy to use
Sonic frequency control
Teach dog tricks
Find dog at night
Positive reinforcement training clicker
Bark control setting
Built-in LED lights
Trainer manual
Portable design
Humane and effective up to 20 feet away
Corrects your pet's bad habits
Cost
$10 plus $5.95 p&h = $15.95
Get a second Pet Command for another $5.95
Grand total = $21.90
Screen Shot
Below is a screenshot of the official website, taken in November 2013: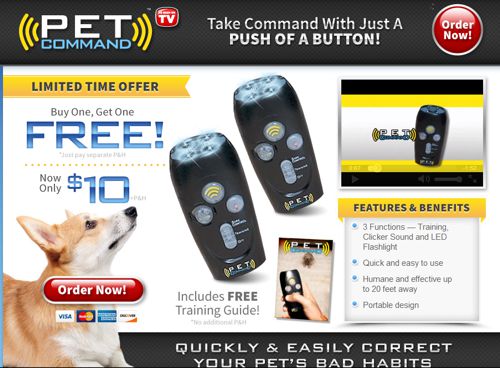 Television Commercial
Below is a television commercial for Pet Command (Note that this original commercial shows a different price than currently listed on the website)
Pet Commander Reviews
Have you tried Pet Command? Please give us your review in the comments below and give it a star rating above.