FiberFix is a water-activated repair wrap which is claimed to be 100x stronger than duct tape. Here is our FiberFix review plus key product info.
Sponsored Links
About FiberFix
This water-activated tape is advertised as a permanent fix for household items. The official product website is fiberfix.com, which was registered back in November 2007.  The domain getfiberfix.com was also used in advertising, but is no longer active.
Claims/Features
Taglines: "Don't replace it, FiberFix it!" and "Fix it for good with FiberFix."
Combines the strength of an epoxy with the ease of a tape
Easy to use – just activate with water and wrap just like tape
Hardens extremely rigid and strong within 2-5 minutes
Works with almost any surface, can be sanded and painted, waterproof, heat and cold resistant
Ideal for repairing water pipes, car hoses, yard and shop tools, outdoor gear, and household items
Can be found at Home Depot in sizes of 1, 2, and 4 inches
No tools required
FiberFix Review
This is a one-time use repair wrap which has a wide variety of uses. The wrap is dipped in water and then wrapped like tape. It only takes minutes to harden.
The FiberFix website describes the product in this manner:
FIBER FIX Super Tape combines the strength of an epoxy with the ease of a tape. Here is how it works. Simply dip it in water to activate the specialized resin and then wrap it just like tape. It takes only 2-5 minutes to harden and with FIBER FIX Super Tape, when you fix it, you Fix It for Good. FIBER FIX Super Tape is waterproof, heat and cold resistant and works in almost any environment! It's great for everyday uses because it is so easy to use and it only takes about 2 minutes. Broken rake handle – Fiber Fix It! Leaking pipe – Fiber Fix It! But don't forget your boat, RV, emergency kit, camping gear and just about anywhere you need to fix something right the first time. If you are a professional or a Do-it-Yourselfer you've got to get Fiber-Fix. Whether its metal, wood, plastics, iron, aluminum, copper, rubber, or PVC it bonds with the strength of an epoxy and the wrapping power of tape."
So does FiberFix really work?
Sponsored Links
Our tests could best be described as mixed. FiberFix's primary "pro" is that it is tough as nails. It definitely lives up to the advertising as extremely rugged, long-lasting tape. Unlike regular tape, or even duct tape, you will first activate FiberFix by dipping it in water. You then simply wrap and let it dry. After it sits for about 10 minutes, the tape bonds to itself and presents a permanent fix. It's a compelling product that means "taping" can now be a long-term solution to household fixes.
The biggest complaint we've heard from readers is that the amount you get for the cost seems rather stingy.  Another issue is that it is a one-time use and you must use all of the product after you open it. It seems to work better for some applications than others. If you're set on using it, you may want to try the smallest box available and purchase locally at Home Depot before investing in larger quantities. Have you tried it? Where did you use it, and did it work?
Alternatives
Depending on your needs, the most popular alternative you may want to consider is Gorilla Tough & Wide Tape, which costs about $11 and holds a 4.8 star rating among hundreds of consumer reviews.
Cost
There are a variety of products, such as the $6 one-inch roll to a mixed-type large kit pack which can about $100. You can purchase FiberFix direct from Amazon, where you will probably find the best prices.
Screenshots
Below are screenshots of the official websites from 2013 and 2016: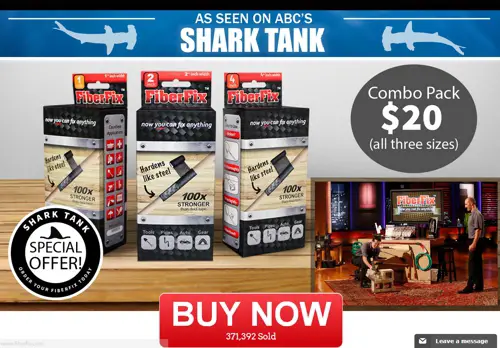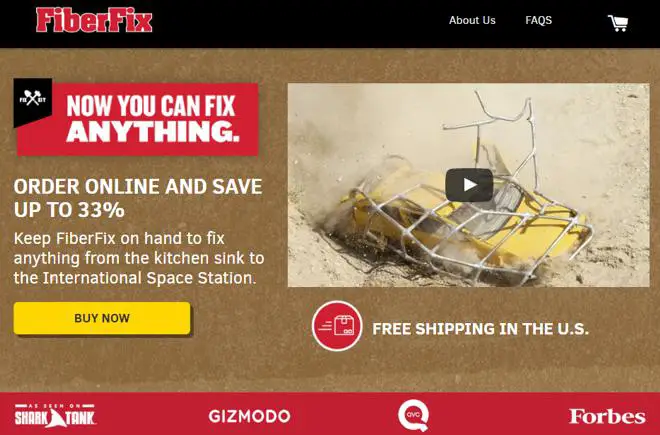 FiberFix Reviews
Have you tried FiberFix? Please give us your review in the comments below and give it a star rating above.
Updated September 4, 2016