Today, I want to share my experience with the Frigidaire Countertop Ice Maker, a product I've been eager to review for quite some time. There are numerous models in the market, but I decided on this one, given its popularity, a good reputation with over 5000 reviews, and an average rating of 4.5 stars.
Sponsored Links
Where to Purchase
The model I purchased on Amazon cost me about $105. I picked this model because of the brand name and overwhelmingly positive consumer ratings.
Ice Maker Review
This ice maker boasts the ability to produce up to 26 pounds of ice per day, and begins making ice in as little as six minutes. It can produce nine ice cubes roughly every 7 to 15 minutes and has a storage capacity for 1.5 pounds of ice, with the water reservoir holding 2.3 quarts of water.
Most Amazon reviews rave about the quantity of ice it produces. However, there were a few complaints about it being slow, not holding a lot of ice, and the lack of refrigeration. It's important to note, this model isn't a refrigerated one. So, if you don't promptly remove the ice, it starts to melt, recycles back into the reservoir, and gets reused.
The Frigidaire Countertop Ice Maker has a straightforward design. The top control panel has indicators for 'Add Water,' 'Ice Full,' and 'Power,' along with settings for 'Small' or 'Large' ice cubes. Inside, you find an ice scoop and basket.
When I set it up and filled the reservoir to its max line, the machine started working almost immediately. In just over eight minutes, I had my first batch of ice. The cubes seemed slightly thinner in this first batch than in subsequent batches.
The ice maker isn't particularly loud, roughly as loud as a food dehydrator. Over time, I noted that the machine took approximately one hour to fill the basket up with ice, producing about one pound of ice before stopping due to being full. After running it for seven hours, it made about six pounds of ice from six batches.
The large cubes took between 57 to 88 minutes per batch to produce, while the small cubes averaged around 60 minutes per batch. I didn't observe a significant size difference between the small and large cubes, so it's safe to say you can opt for either depending on your preference.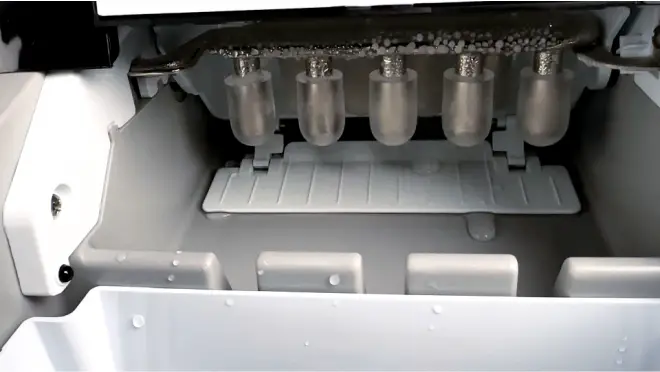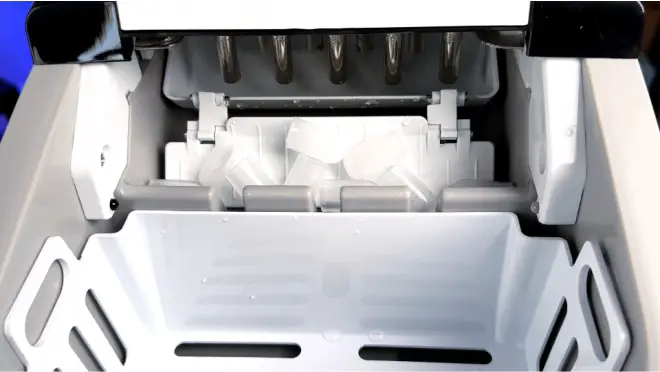 Now, onto the pros and cons.
The simplicity of use and consistent production of a good amount of ice are significant advantages. However, there are a few things to consider. For one, you need to check on it every hour to empty the tray. An alert function for a full tray would have been a handy addition. Additionally, as it's not a refrigerated model, any unremoved ice melts back into the reservoir. There are refrigerated models available, but they fall into a different price range. I did notice that the ice takes some time to melt when left in the basket, typically several hours. Thus, although it's not refrigerated, it does appear to be well insulated.
To summarize, the Frigidaire Countertop Ice Maker is a worthy investment, particularly if you host frequent gatherings, have a large family, or find yourself making ice regularly. Just remember, the frequency of emptying the tray and lack of refrigeration may need to be factored into your decision.
If you've used an ice maker like this, tell me what you think in the comments below.