Today I'm sharing my experience with a portable washing machine that's been doing the rounds on social media. After numerous requests to test it out, I decided to give it a go, and see how it compares to a full-size washing machine.
Sponsored Links
Where to Purchase
The model I purchased (Amazon Link) is on the more expensive end, costing me $60. I opted for this model simply because it had the most ratings on Amazon. You can find some pretty cheap similar models online at sites like Temu, but I can't vouch for how well those work.
Portable Washing Machine Review
Inside the package, I found the main washing unit (which includes suction cups on the bottom), a user manual, a lid, a collapsible spin basket, an adapter, and a drain plug with a hose. To unfold the unit, you simply insert your hand to hold against the bottom and pull the sides up.
This 6.5-liter machine is advertised to be perfect for small items such as socks, underwear, and baby clothes. However, it's not recommended for larger clothing items. It's easy to store as it collapses down to five inches when not in use and expands to 11 inches when unfolded. The machine has a three-mode timer for one-, five-, or ten-minute wash cycles. Weighing only 3.3 pounds, it's portable enough for an RV, a dorm, or even camping.
I decided to compare the portable washing machine results with those of a full-sized unit. To create a fair test, I stained two white t-shirts with blue raspberry syrup from my Shave Ice review and a dash of soy sauce, rubbed it in a little bit, and let them sit for 24 hours. I also took a couple of white cloths, wiped a dirty picnic table, and obtained a pair of dirtied white socks by walking outside.
The stained items were divided between the two washing machines – one set for the portable unit and the other for the full-sized unit. I set up the portable washing machine in my bathroom, next to the sink, for an efficient draining system. The stained shirt, dirty sock, and handprint cloth all fit in comfortably, although it doesn't seem like much more would fit in there. After adding a tablespoon of soap, I set the machine to work for 10 minutes. To turn the unit on, you press and hold the power button for 3 seconds. It defaults to a 5-minute cycle, but additional presses of the button will toggle through 10 minutes or 1-minute options. I opted for the 10-minute cycle.
During the cycle, I observed that the water started to appear cloudy, an indication that it was effectively removing the stains. The suction cups held the machine in place quite well. After the washing cycle, I decided to run it through another cycle with plain water to rinse out the soap, based on online user recommendations. This was not suggested in the instructions, but I didn't find the instructions particularly helpful throughout the process.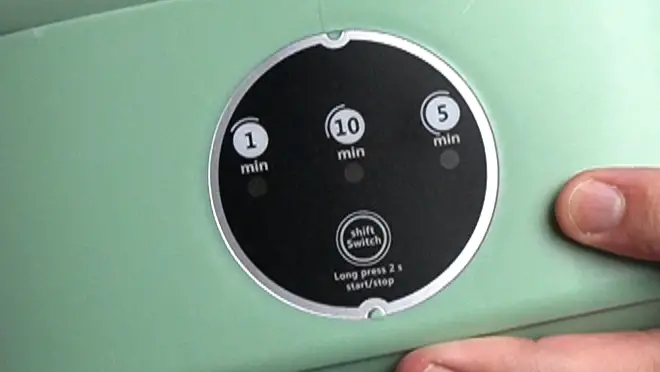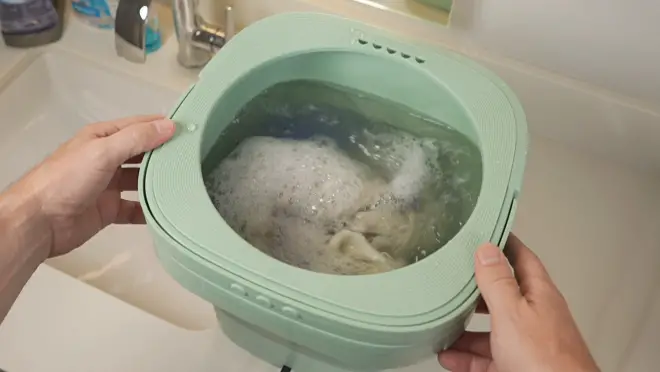 Once the rinse cycle ended, it was time to wring the clothes by hand, dump out the water, and use the spin basket to remove excess water. Unfortunately, this didn't go smoothly. The machine started to shake uncontrollably, and despite my efforts to hold it down, it was clear that the spin cycle wasn't really effective. The clothes remained quite damp, and I didn't notice any significant amount of water being drained out.
Despite this hiccup, I was pleasantly surprised by the cleanliness of the clothes. They all came out quite clean, with the syrup stain completely removed and the soy sauce stain lessened considerably. After allowing them to dry, I compared them with the clothes from the full-size washing machine (which I ran on a Quick cycle, also using only 1 tablespoon of laundry soap).
Surprisingly, the portable machine's results were comparable to the full-sized one. Both machines displayed around the same amount of stain removal on all of the items I washed. The only noticeable difference was in the dryness of the clothes – the full-sized machine managed to get them much drier in its spin cycle than I could achieve from my disastrous spin cycle and wringing by hand with the portable unit.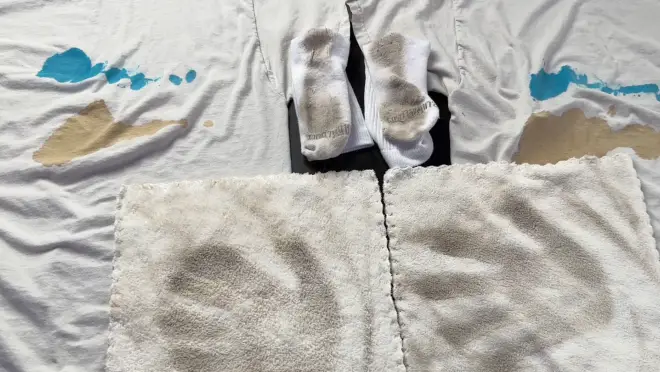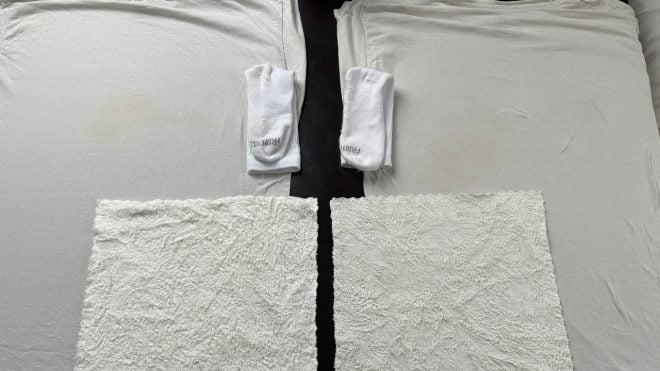 To sum up my experience, I found the portable washing machine to be more effective than I initially expected. The stains were well-removed, the machine stayed in place during the wash cycle, and it folded down for easy storage. However, it could certainly improve on its spin cycle, which was a bit of a disaster. It also didn't hold a lot of clothes, and in some cases, it might just be faster to wash a few items by hand.
Despite the mixed reviews online, I can see how this portable washing machine would be beneficial for some people, especially those living in small spaces or frequently traveling. I'm glad I gave it a shot and encourage you to share your experiences if you've tried a similar product. If you've used a product like this, tell me your thoughts in the comments below.