The Lamicall car vent phone mount is one of the most popular car phone holders on Amazon. It's also one of the smallest and cheapest. I put it to the test alongside four others to see how it would compare.
Sponsored Links
Where to Purchase & About
I paid $11.99 for the Lamicall on Amazon in October 2022. At the time of purchase, it had a 4.3-star rating among about 27,000 reviews. This is one of five car phone holders I tried out. Below you can find links to the other four holders I tested out.
Lamicall Car Vent Phone Mount Review
As I perused best seller lists on Amazon for a nice collection of phone mounts to review, the Lamicall stood out to me for several reasons: it was cheap, it was very highly rated, and it was tiny. I wondered why this cheap, small phone holder was so highly rated – and decided to include it in my review.
When I received the Lamicall, I was surprised at how small the box was – even before opening it up! Despite its diminutive design, it does feature a couple of upgrades over many standard vent mounts. This model includes two clips in the back, rather than just one. Having dual clips allows for a more secure hold onto the vent. The front of the unit holds a phone by means of a retractable clamp. The left side is fixed in place, while the right is spring-loaded. Thus, to insert your phone, you simply press the right edge of your phone against the spring-loaded grip and slide your phone into place. To remove the phone, you just push your phone to the right and lift out.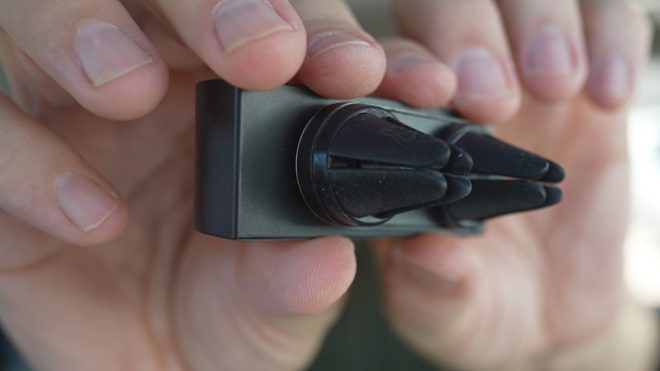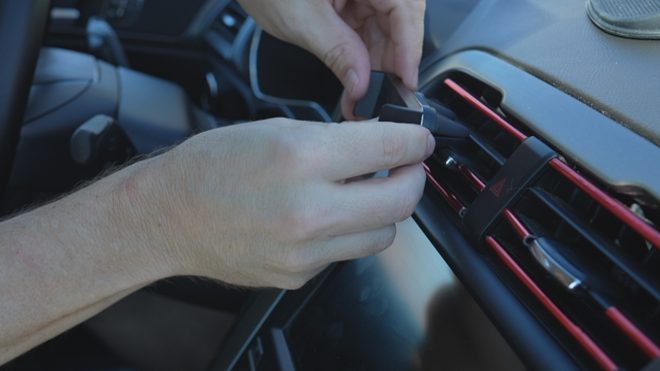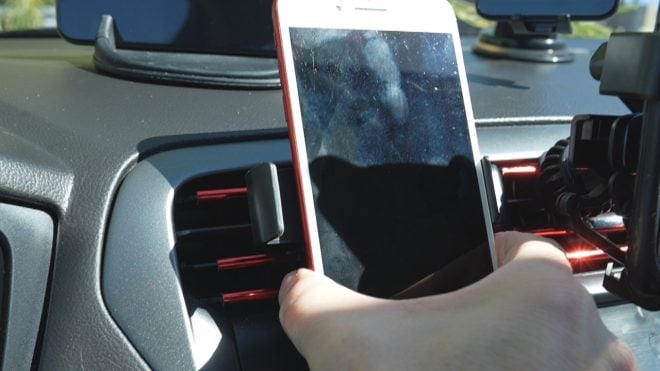 Of all the phone holders I tested, the Lamicall was the easiest to install, as you simply slide it onto your car vent. There are no buttons, levers, knobs, or suction cups to worry about. Unlike many vent mounts, this unit can also be rotated, allowing you to view your device in horizontal or vertical orientations.
For my 235-mile road trip from Las Vegas to Rancho Cucamonga, I tested out the Lamicall alongside four other mounts. For each stop of my journey, I rotated different phones among my various mounts. These phones varied in size and shape. Some had cases and some didn't. At no time did any of the phones I tested in the Lamicall slip, fall, or even jiggle in bumpy road conditions.
The only issue I had with the Lamicall was when removing a large phone with a case. There were a few instances when a large phone pulled the Lamicall off of the vent, so I found myself holding a phone with a vent mount attached to it. To remedy this, I realized that I needed to simply slow down and remove it more gently. It's a bit of a mental adjustment to go slowly, but I don't think most people will find this to be much of a concern.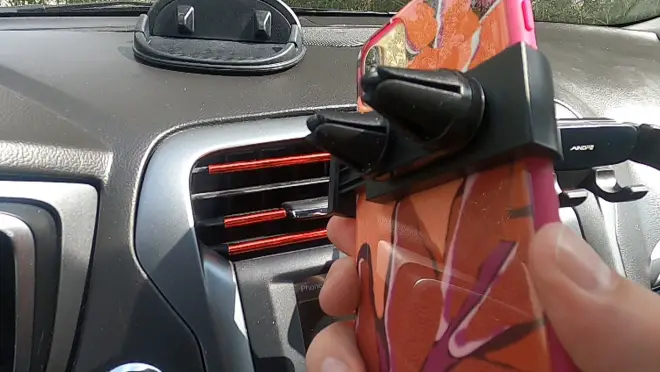 There are some potential issues to consider if you're in the market for a vent mount, and these issues tend to vary by make and model of your car. Most vent mounts are designed for horizontal vents and don't always work with vertical or rounded style vents. I believe the Lamicall would work with vertical vents because of its ability to be rotated, although I didn't test this out. Another issue is that you lose a vent because the phone blocks the airflow. In the winter, running the heater with a vent mount in place could lead to the phone overheating, although I have never encountered this myself.
In the end, if you are looking for a minimal car phone vent mount, the Lamicall should be on your short list.