Today I offer my review of the popular AINOPE "gravity" car phone holder, which I tested out alongside four other holders.
Sponsored Links
Where to Purchase & About
I bought the AINOPE from Amazon for $15.99. At the time of purchase in October 2022, it had a 4.3-star rating among over 17,000 reviews. This is one of five car phone holders I tried out. Below you can find links to the other four holders I tested out.
AINOPE Gravity Phone Holder Review
As I was researching car phone holders to test on a recent trip to and from Southern California, this particular model stood out to me from the photos and description on Amazon. It looked different than most of the others in its category, which made it a compelling choice. Described as a "gravity" car phone mount, I was curious if it was worthy of the high rating among so many reviews.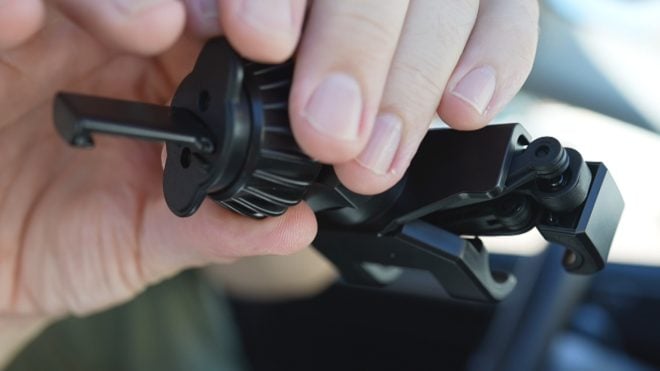 The AINOPE is a vent mount that uses a single clip to hook onto the back of one of your car vents. To install, I first unscrewed it all the way so that the clip was fully extended. After hooking it onto the vent, I tightened it until it was securely in place. There is a second adjustment wheel that allows you to lock in the viewing angle. Once everything is in place, it's simply a matter of dropping your phone between the clips, which automatically grab onto it. The weight of your phone pushes downward on the bottom of the unit, which presses the arms inward, providing a secure fit around your device. Removing the phone is as simple as just pulling it up and out of the unit. There are no buttons to press or arms to squeeze together. It's a simple yet elegant design that lets gravity do most of the work.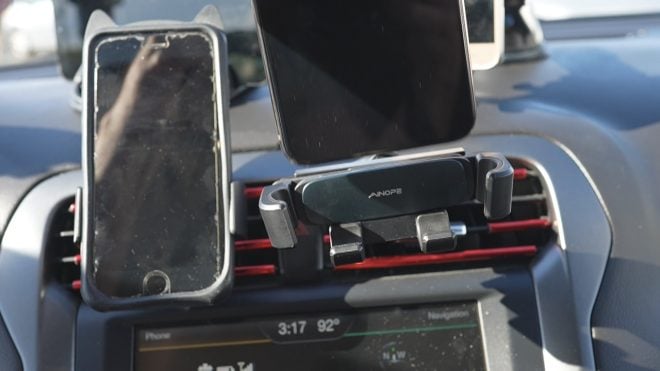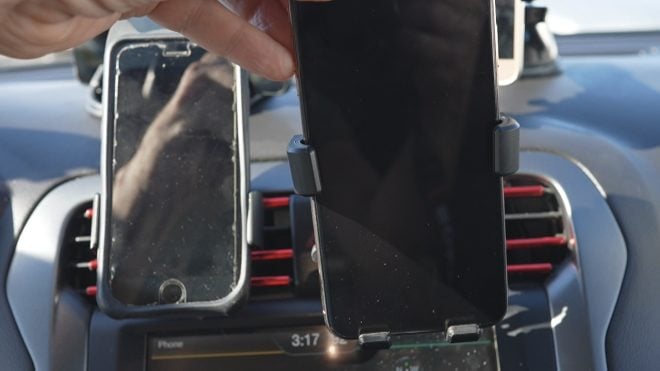 Throughout my trip, I tested five different phones of varying sizes (from an iPhone 6s to an XS Max). Some had cases and some didn't. Regardless of the phone I used, I found that using this mount was as effortless as placing the phone down to insert, and lifting it upward to retrieve it.
Throughout the five days I was in California, I drove around with five dash mounts installed in my car, and the AINOPE is the one I used most. My daughter was with me on the trip and also preferred the AINOPE to all the others.
There are a few caveats about this phone holder, however. First, it cannot be used in horizontal mode. That is not an issue for me, but that could be a dealbreaker for some people. If you want a good horizontal holder, be sure to check out my Loncaster review. The other caveat is that it is a vent mount, which not everyone likes. Unlike a lot of other vent mounts, however, this one stays firmly in place because it locks onto the back of the vent.
If you are looking for a good vertical-only dash mount, this is the model I'd suggest.