I recently asked ChatGPT to suggest products for me to review. On the list of 10 suggestions was a waffle cone maker, which I had never tried before. It seemed like a good suggestion, so I picked up a model by Proctor Silex and gave it a shot. Today I offer my review.
Sponsored Links
Where to Purchase
I picked up my unit on Amazon for about $34. This model has solid ratings and comes from a reputable brand, so it seems to be one of the best choices out there.
Claims & Features
Makes sugar cones and waffle bowls in 2-3 minutes
Includes cone roller and waffle bowl accessories
Easy to clean nonstick browning plates
Under-unit cord storage
800 Watts
Browning control dial
Recipe
The recipe I used for the batter came from the waffle cone maker instructions. This is the only recipe that is included, and I am reprinting it here for informational purposes.
Ingredients
2/3 cup bread flour
1/4 teaspoon ground cinnamon
1/4 teaspoon salt
2 large eggs
1/4 cup granulated sugar
1/4 cup packed dark brown sugar
1/4 cup unsalted butter, melted
1/4 cup whole milk
1 tablespoon vanilla extract
Directions
Set browning control between MIN and MAX. Close the lid and wait until the green preheat light comes on (Note: I did this step after mixing up the ingredients)
In a small bowl, combine flour, cinnamon, and salt. Set aside.
In a medium bowl, whisk egg and sugars until well blended (about 1 minute). Add flour mixture and stir until blended. Add butter, milk, and vanilla extract and stir until well blended.
Pour 3-4 tablespoons of batter into the center of the Waffle Cone Maker and lower lid onto the batter. Do not push down. Cook 2-3 minutes.
Use the cone roller to lift the edge of the waffle and remove. Use a paper towel to protect your hand from the heat if necessary. Shape waffle around cone roller or in the bowl mold and hold until set.
When cool, fill with ice cream and serve.
Waffle Cone Maker Review
As ChatGPT takes the world by storm, I was curious about what it would suggest for me to review, so I gave it a list of my recent YouTube videos and asked for suggestions. Many of its ten suggestions were not very good, such as beauty products or tech items. However, the last item on the list was a waffle cone maker, which I had never used before and had never received a viewer request for, so it seemed like an interesting item to try.
After browsing Amazon, I decided to go with the Proctor Silex model, which was listed as Amazon's Choice and had solid user ratings. Its $34 price tag also seemed reasonable. The model came with the waffle iron, an instruction booklet, a cone roller mold, and a bowl mold.
I prepared the waffle cone recipe (see above) and tested it. I expected it to take a couple of uses to get it right, so I wasn't too concerned with my first batch. I used three tablespoons of batter and set the time for two minutes. After two minutes, I raised the lid and checked. It was sufficiently cooked, so I used the edge of the cone roller to lift it onto a piece of wax paper and rolled the waffle around it. After about thirty seconds, it was hard enough to remove the mold. The first cone was smaller than I wanted, so I increased the batter to four tablespoons for the next round and kept the timer at two minutes.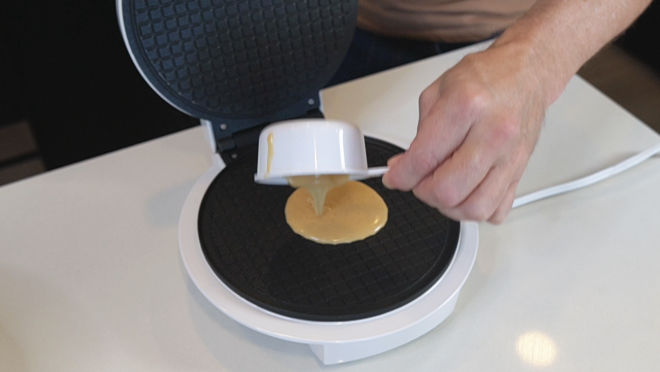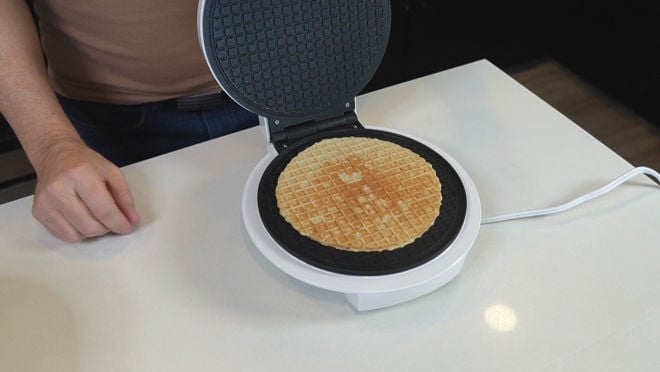 My second cone was a bit undercooked, so I increased the time on subsequent cones until I found just the right combination. For me, four tablespoons and three and a half minutes worked best. I also turned the browning dial a bit higher than center, which resulted in a nicely browned, firm cone that held ice cream without getting soggy or breaking easily.
I also created a waffle bowl, which was straightforward. I simply placed the cooked waffle between the two bowl molds and held them together for about 30 seconds. It turned out fine, but I probably wouldn't use this feature as much as the cones. The cones were light and crispy, yet firm enough to hold ice cream. It took me a few tries to get the rolling technique right, as my first attempts had large holes in the bottom. By my sixth and final cone, I was able to roll them with virtually no holes.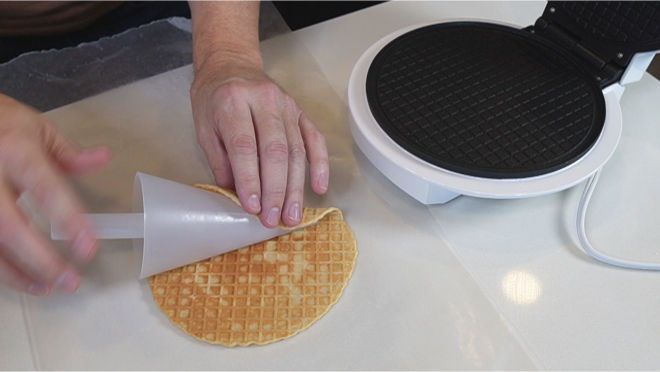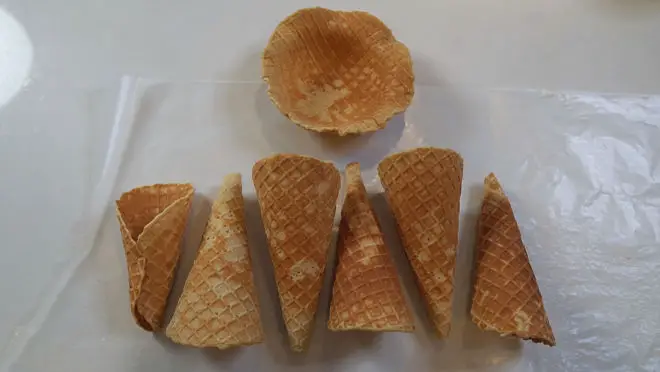 In conclusion, if you make your own ice cream, this waffle cone maker would be a great pairing to create homemade cones. My only complaint is that the surface didn't cook evenly, but even the imperfect cones were still edible. I'm glad ChatGPT suggested the waffle cone maker, because it was a fun item to test and the results were surprisingly good.
If you've used a waffle cone maker, tell me of your experience in the comments below!