Today I'm taking a look at Vacutrim, an As Seen on TV electric trimmer that features a built-in vacuum that collects whiskers as they are being trimmed. It also features a built-in dial which allows you to easily select your trimming length. I put it to the test and here are my results.
Sponsored Links
Where to Purchase
You can buy Vacutrim from the official website or via Amazon for about $40. There is also a Deluxe Model, which I have not tested, that runs about $60.
Claims & Features
Sharp stainless steel blade
Built-in dial with 20 trim lines
Mess free vacuum feature
Can be used on face or body
Vacutrim Review
As someone who has sported facial hair most of my adult life, I take notice when a new type of shaving gadget appears on the scene. I've tested various razors and trimmers over the years, including Harry's Razor, several Gillette models, Tac Shaver, Philips OneBlade, MicroTouch Solo, and others. Recently, I came across the As Seen on TV Vacutrim and decided to try it out.
Vacutrim is an electric trimmer by Emson, a major player in the As Seen on TV industry. The packaging sports the Bell+Howell name, but it is important to note that this name is licensed to several companies and has little bearing on the product itself.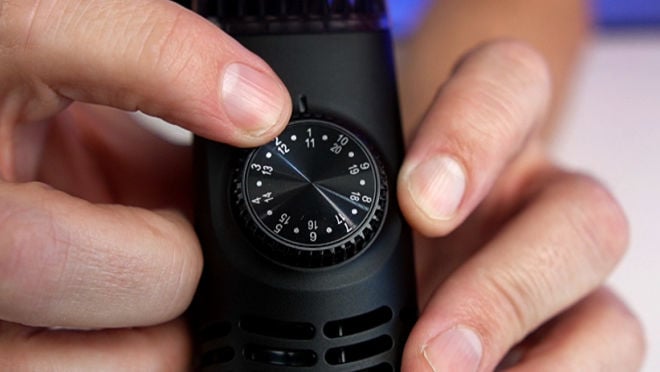 Vacutrim has the same features as most standard trimmers, with a few additional features. There are only two attachments, but each can be adjusted from #1 to #10 with the short attachment or #11-#20 with the large attachment by turning a dial. This is a nice feature I have not encountered before and feels like a natural upgrade to swapping out a different attachment for each size. I have an entire bag of attachments from my various trimmers, so the system implemented in the Vacutrim feels like a major improvement.
It takes a couple hours to charge Vacutrim, and the 1400 mAh battery will provide about 90 minutes of shaving time per charge. The built-in vacuum is another highlighted feature of the Vacutrim. The commercials and website imply that this vacuum will prevent all hair from falling below, but in my tests, I found that it collected about 50% of the hair compared to my old Wahl trimmer.
In my tests, I used my Wahl trimmer on one side of my face and the Vacutrim on the other. First, I used a #2 attachment on the Wahl, and the #2 setting on the Vacutrim. I repeated this with a #1 and then again with no attachment at all. The Vacutrim performed about as well as the Wahl trimmer, but left only about half the amount of whiskers behind.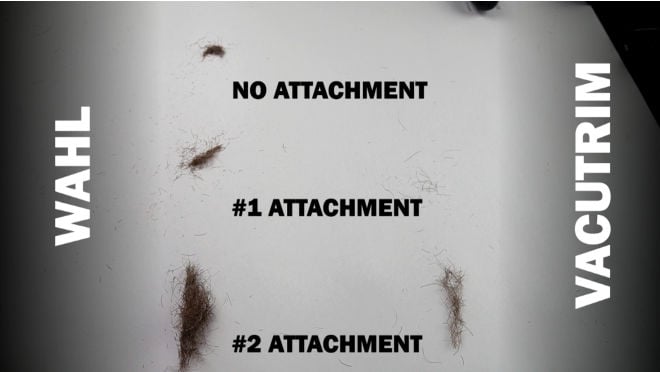 Several people have written to me to ask if this can be used as a mini vac to suck up the remaining whiskers that do fall upon the counter, and the answer is YES. I tried this with a clump of whiskers on my countertop and they were sucked into the machine, leaving very little behind.
I had some questions as to whether or not this could be used as a mini vac to pick up any whiskers left behind, and the answer to that is yes it can. I filmed a short showing this being tested out, which you can view below.
Overall, I would say that the Vacutrim somewhat lives up to the advertising hype. While it doesn't prevent all whiskers from falling onto the counter below, it does collect about half of them which is still an improvement over trimmers I've used. I will continue to use the Vacutrim and will update my review if anything changes.
If you've used Vacutrim, tell me what you think in the comments below.
Updated February 2023