Atomic Zoom Review: 10X Smartphone Lens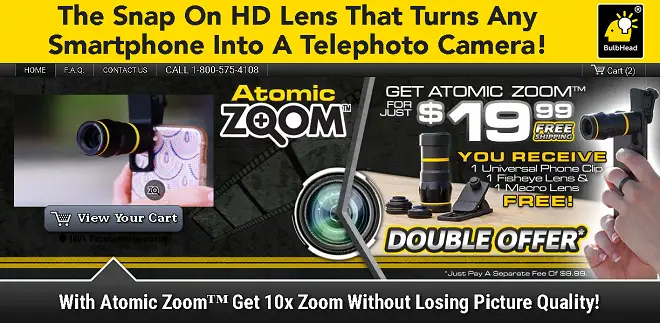 Atomic Zoom is a high definition telephoto lens that snaps onto your smartphone. Does it work as advertised? Here is our Atomic Zoom review.
Sponsored Links
About Atomic Zoom
Atomic Zoom is a snap-on HD 10x zoom lens that is placed over your smartphone's camera. The official website is buyatomiczoom.com, with a registration date of April 2017. The screen capture below was taken of the product website in August 2017.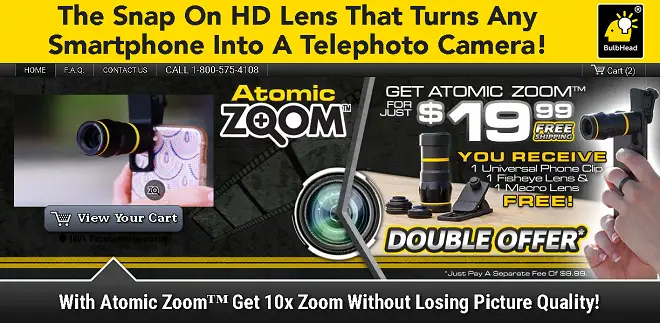 Claims & Features
Takes photographs
10x zoom doesn't reduce quality
User-friendly (attach and take pictures)
More compact than professional zoom lenses
Manufactured from professional-grade glass and aluminum
Cost
Atomic Zoom Lens costs $19.99. It comes with a universal phone clip, a fish eye lens, and a macro lens. There is an optional double offer that costs $29.98. Shipping is free on both offers.
Atomic Zoom Review
Atomic Zoom is a snap-on lens that clips onto your smart phone or tablet, with a 10X zoom. It's easy to use by simply snapping it onto your device so that the lens covers your phone's camera. You can turn the focus ring in order to get the optimal sharpness, and then simply take photos as your normally would. It should be compatible with most smartphones, although the iPhone 7's dual-lens probably won't work with this item, at least not in Portrait mode.
Sponsored Links
The commercial compares Atomic Zoom to professional DSLR lenses. I've used several iPhone lenses and I don't think most people would really compare the results to a DSLR camera. I can, however, see why reviews are so mixed. On one hand, it does easily clip onto a phone and zoom as advertised, but the more pieces of glass you put between your target and your lens, the more image degradation will occur. I wouldn't expect miracles.
The zoom quality is almost certainly better than digital zoom on most smartphones, so if that's something you use often, this could definitely be a step up from that. Will it replace a DSLR or even a point and shoot? I highly doubt it. It's definitely more convenient than carrying around a separate camera, although you'll still have to take time to clip it onto the phone whenever you want to use it. Obviously it can't remain clipped on while you carry it in your pocket or purse because eventually the clip will be bumped and the lens will move around to the point that it will need to be re-adjusted.
As with the zoom lens, the fisheye and macro lenses can serve to enhance your existing camera, but you will still have to take time to properly place it into position. I also wouldn't expect DLSR quality, but I think many users will find them at least acceptable.
There is a scene in the commercial in which a grandfather and granddaughter are interacting, and the grandmother is fumbling with a DSLR and misses the shot. You then see her reach into her purse and pull out her phone with the Atomic Zoom attached, and this time gets the shot. I doubt most people would leave the lens attached to the camera like that, and even then would probably have to adjust it if it was attached while inside the purse. Thus, it's possible that Grandma could have been fumbling around with Atomic Zoom just as she did in the original scenario.
I believe that reviews for this type of lens are mixed due to consumer expectations. Those hoping for a DSLR-like lens will probably be disappointed, but those who just want some extra zoom power without having to suffer from quality loss due to digital zoom may be satisfied.
Atomic Zoom is not the only lens of its kind, as these types of lenses are quite common. You may want to peruse comments for nearly identical lenses, discussed below.
Alternatives
Atomic Zoom is quite similar to several other products available mostly online. Look at this $15 12x camera kit, or this $18 model by Blue Lightning, or this $12 version by BlueBeach. Another lens you may have seen advertising is Flux HD Zoom. When you compare the design of all of these lenses, it's hard not to wonder if these are all re-branded versions of the same generic design. It's not unlike when Atomic Beam flashlight came out, and happened to sport the same basic design as TacLight and many others.
Your Atomic Zoom Reviews
What are your thoughts about Atomic Zoom? Drop a comment below and a star rating above to let us know what you think about it.