Brightlings are plush toys which can speak, sing, and repeat what you say. Read our Brightlings review.
Sponsored Links
About Brightlings
Brightlings are plush toys for kids that can say over 100 words and phrases, plus sing and repeat what you say. The official product website is getbrightlings.com, which was registered in August 2016. Below is a screen capture showing the official website as it appeared in August 2016.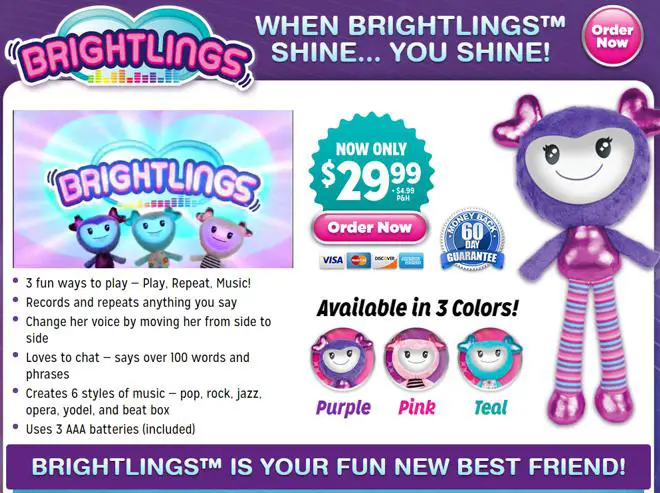 Claims & Features
Speaks over 100 words and phrases
Can repeat what you say
Sings in 6 styles of music
Pitch-changing feature
Cost
Brightlings cost $29.99 + $4.99 P&H. You can choose from purple, pink, or teal. There is a 60 day money back guarantee, and it is not currently available in stores. You can, however, find it on Amazon for about $30.
Sponsored Links
Brightlings Review
At first glance, Brightlings may look like an ordinary plush toy or voice-repeating product, but upon closer inspection you'll find a toy which offers a rich play experience.
This toy can say over 100 different things. The more you play with her, the more she will say. In addition to the many built-in phrases, it can also repeat anything you say. The ear is used as a sort of "record" button, then you press the tummy for playback. If you tilt it while it's speaking, the voice will change from high to low. While the toy is speaking, there is an animation which occurs on the face to simulate a mouth moving.
Squeezing the Brigthlings' hand will activate singing mode, in which six different style can be accessed. After pressing the hand, you can scroll through styles by pressing the ear.
The makers have done everything right in the design and presentation of Brightlings. Take, for example, the toy's ability to speak over 100 words and phrases, and sing in different styles of music, and repeat what you say. A product could be built around any one of those features, yet they're all under the hood with Brightlings.
There are other small additions which may go overlooked by some consumers. The inclusion of 3 AAA batteries, for example, is a nice touch, as is the modest shipping of only $4.99.
We think Brightlings will have a bright future, because it is loaded with features not typically found within a single product.
Alternatives
There have been a number of voice-repeating toys on the market in recent years, such as Mimic Mees, which we reviewed here. Another popular online option is Talking Tom which has been around for several years. It runs about $25 and has positive consumer ratings.
Your Brightlings Reviews
What do you think of Brightlings? Give us your opinion in the comments below and leave a star rating above.