Buddy Balls are globe-shaped toys that can be converted into a soft teddy bear. Do they really work? Here is my Buddy Balls review.
Sponsored Links
About Buddy Balls
Buddy Balls are plush spheres that can be unzipped and turned inside out to reveal a cuddly stuffed animal. The official product website is buybuddyballs.com, which was registered in July 2017. The screenshot below shows how the product website looked in September 2017.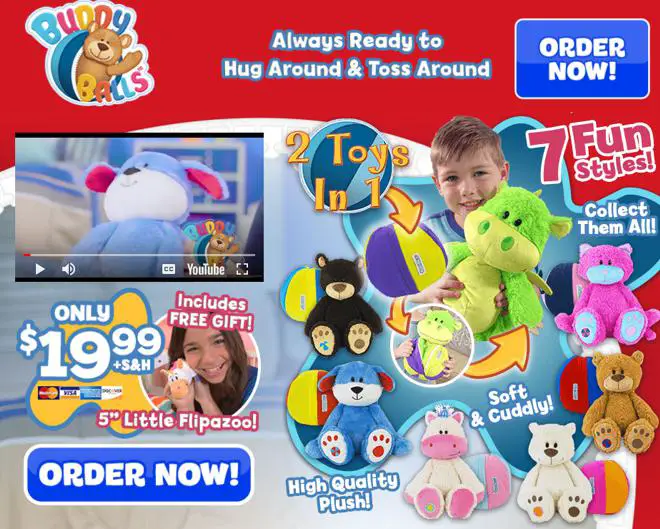 Claims & Features
Comes in 7 different styles
Two toys in one (transforms from a teddy bear to a ball)
Covered in velvety material
Store or hide things inside
30 day money back guarantee (minus shipping)
Cost
A single Buddy Ball costs $19.99 + $8.99 standard shipping for a total of $28.98. There are seven different models to choose from: Sam Chocolate Bear, Lily Cream Bear, Max Honey Bear, Kitten, Puppy, Unicorn, or Dino. Each Buddy Ball comes with a 5″ Little Flipazoo.
Sponsored Links
Buddy Balls Review
Buddy Balls are plush characters that can be rolled into a ball. If the idea behind Buddy Balls sounds familiar, you aren't mistaken. A few years ago, a very similar item was marketed under the name Ball Pets. That toy was essentially the same idea as Buddy Balls, and can still be found online for under $10. It was produced by Telebrands, one of the giants in the As Seen on TV industry.
When I first saw the commercial for Buddy Balls, however, I knew this was a product by Jay at Play, a company that produces popular plush toys for kids. You've probably seen other popular offerings by Jay at Play, such as Flipazoo or Tummy Stuffers. In fact, Buddy Balls combines elements of both of those items. Flipazoo is a plus toy that "flips" or transforms from one character to another, similar to how Buddy Balls transforms from character to ball. Tummy Stuffers is a toy that allows kids to hold things inside, and Buddy Balls also offers this feature.
Buddy Balls are simple to use. When opened up, your child will have one of seven cuddly characters to hold and snuggle. What you don't see highlighted in the advertising is that the "ball" portion of the unfurled pet resides on the back of the doll. When you want to roll it up, you simply stuff the plush pet into the ball fabric and zip it up. You'll then have a soft ball that can be rolled or tossed.
I've seen quite a few Jay at Play plush toys over the years, and I've always found them to be constructed well and live up to the advertised claims of softness. Thus, I have confidence that those who order Buddy Balls will be pleased with their purchase.
Alternatives
As noted above, you may be interested in Flipazoo, which is produced by the same company and converts from one character to another. Yet another Jay at Play offering, Pop Out Pets, has also been quite popular with consumers.
Television Commercial
Your Buddy Balls Reviews
Have you used Buddy Balls or something like it? Leave a comment below and a star rating above to let us know your thoughts.