Cold Brew Cafe is a steeping device which allows you to cold brew coffee in your home. Read our Cold Brew Cafe review.
Sponsored Links
About Cold Brew Cafe
Cold Brew Cafe is a home brewing device which allows you to make rich cold-brew coffee. The official product website is buycoldbrewcafe.com, which was registered in July 2016. Below is a screen capture showing the official website as it appeared in August 2016.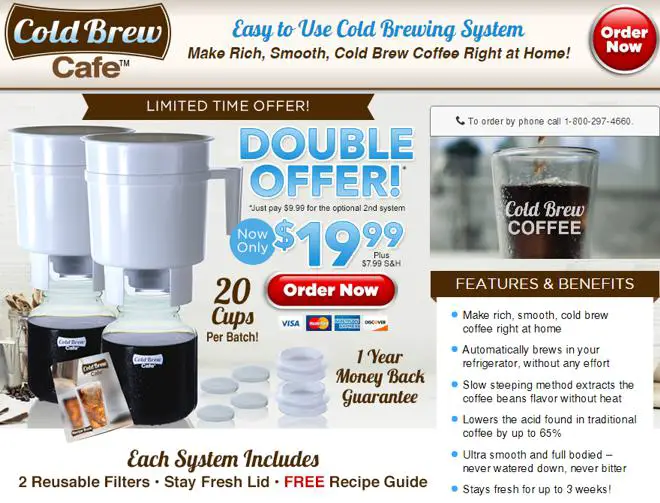 Claims & Features
Make cold-brew coffee at home
Brews in the refrigerator
Slow steep method
Up to 65% less acid
Stays fresh for weeks
Can be served hot or cold
Cost
You can get Cold Brew Cafe from the official website for $19.99 + $7.99 shipping for a total of $27.98. You have the option of adding a second system to your order for another $9.99.
Sponsored Links
Each system contains 2 reusable filters, a stay fresh lid, and recipe guide.
There is a one year money back guarantee. As of this writing, it is not available in stores.
Cold Brew Cafe Review
For the uninitiated, cold brew coffee is often confused with iced coffee, although these are two different things completely. Cold brew coffee is the process in which coffee is created at room temperature or with cold water over time. It can be served hot or cold. The process leads to a far less acid coffee, with rich flavor that won't go stale for weeks.
There is a learning curve in order to create the perfect cup of cold brew coffee, although aficionados will probably tell you that this method does in fact create a superior cup of Joe.
What you create with Cold Brew Cafe is a concentrate that remains in your fridge. When you want a cup of coffee, you'll add nearly-boiling water with about a quarter cup of the concentrate, and then any additional milk or creamer.
The design of Cold Brew Cafe is a pretty standard setup, and a what we feel is a proven configuration.
If you've never tried cold brewing before, we have embedded a short video which gives a pretty good overview on the topic.
Overall, we think the design of Cold Brew Cafe will please those who purchase it. Keep in mind that cold brewing is a very different experience than using a coffee maker – and not everyone may like the difference. The final product, however, is bound to be one of the best cups of coffee you've made at home. For that, we think this product will do well with consumers.
We're not sure you'd need two units, so you may want to skip the $10 double offer that is not refundable.
Alternatives
There are quite a few cold brew coffee makers on the market, of varying sizes and prices. Perhaps the closes in design is the Toddy T2N Cold Brew System, which runs about $35 and holds a 4.6 star rating among 1000+ consumers. That item has been on Amazon for over a decade.
Your Cold Brew Cafe Reviews
What do you think of Cold Brew Cafe? Give us your opinion in the comments below and leave a star rating above.