Comfy Aire Bra is advertised as a "breathing bra" that circulates air around your body for cooling comfort. Read our Comfy Aire Bra review.
Sponsored Links
About Comfy Aire Bra
Comfy Aire Bra is a breathable bra which keeps you cool throughout the day. The official product website is comfyaire.com, which was registered in June 2016. Below is a screen capture showing the official website as it appeared in August 2016.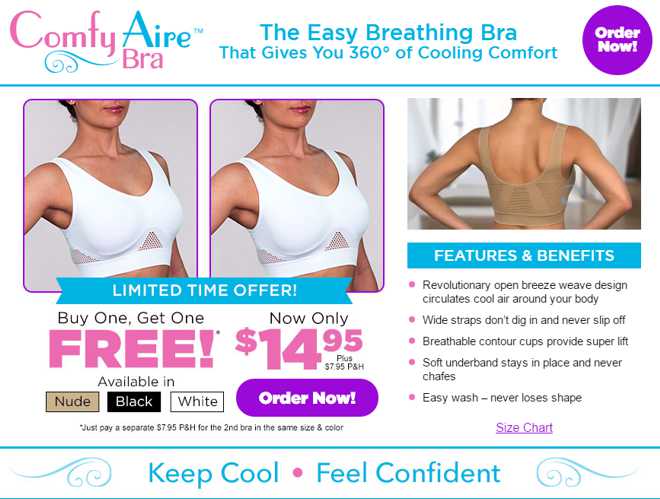 Claims & Features
Open breeze weave design circulates air around your body
Wide straps don't dig or slip
Contour cups provide lift
Soft under-band
Doesn't lose shape after washing
Available in nude, black, and white
Sizes Small through 2X
Cost
Comfy Aire Bra costs $14.95 + $7.95 P&H. A second bra is included for another $7.95 P&H, bringing your total order to $30.85. Both bras must be of the same size and color.
Sponsored Links
As of August 2016, this item is not yet available in stores.
Comfy Aire Bra Review
This As Seen on TV bra promises to give you "360 degrees of cooling comfort" from a "revolutionary open breeze weave design" which supposedly circulates air around your body. This, we are told, is superior to regular bras which are hot and sticky.
While the idea of a vented bra seems somewhat obvious, it not always easy to find a non-sports bra which offers this design option. With Comfy Aire Bra, we have a design which is geared toward comfort above all else.
Its primary features are wide straps, a soft under-band, and a vented mesh design to allow your skin to breathe. The combination of these features provides a well-designed and comfortable bra. The back of the bra sports a particularly open design, with most of that section offering cooling vented material.
We don't particularly like the mandatory double offer, but a $31 price tag for two bras isn't out of line for the $12-$15 average for this type of item.
Overall, we think Comfy Aire Bra is a solid vented bra with enough comfort-related options to make it a viable choice. It may seem a bit gimmicky, but sometimes gimmicks are fun, and in this case, sometimes they even work.
Based on the website registration date and limited advertising, Comfy Aire Bra appears to be a new item. It has been our experience that new items sometimes ship more slowly than more established products, although we can't say that will happen in this case. The website states "This product will ship within 30 days from the time the order is processed and will be mailed via UPS."
Alternatives
There are numerous breathable bras for women which sport a variety of sizes, shapes, and designs, all in the name of staying "breathably cool."
A close competitor is probably something like the Senchanting Women Comfort Breathable Sports Bra, which offers many of the same features as Comfy Aire Bra. This bodes well for Comfy Aire Bra, as that product is quite highly rated.
Your Comfy Aire Bra Reviews
What do you think of Comfy Aire Bra? Give us your opinion in the comments below and leave a star rating above.