E-Charge Wallet is an aluminum wallet that doubles as a cellphone charger. Does it work as advertised? Here is our E-Charge Wallet review.
Sponsored Links:
About E-Charge Wallet
E-Charge Wallet is a wallet that features an aluminum casing, a smart phone charger, and RFID blocking technology. The official website is echargewallet.com, with a registration date of April 2017. The screen capture below was taken of the product website in May 2017.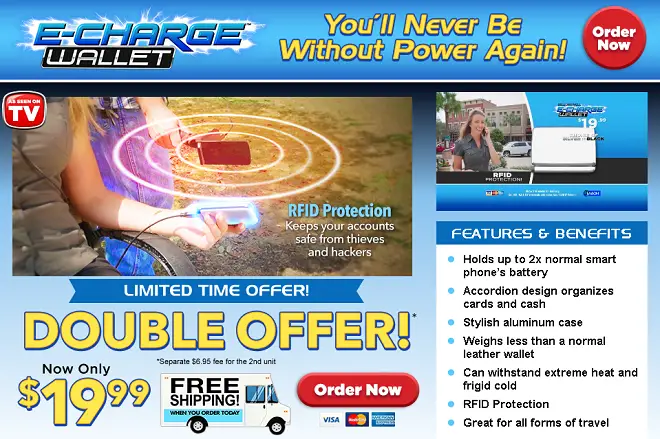 Claims & Features
Has 2X the capacity of an average smart phone battery
Arrange cards and cash with the accordion design
Fashionable aluminum casing
Lighter than a regular wallet
Tolerates heat & cold
RFID blocking protection
Cost
E-Charge Wallet costs $19.99 + $2 web service fee for a total of $21.99. There is an optional double offer that adds a second wallet for an additional fee of $6.95 which would bring the total to $28.94. The wallet is available in either black or silver coloring, and comes with a universal charging cable. As of this writing, this offer is not available in stores.
Sponsored Links:
E-Charge Wallet Review
The As Seen on TV industry is a peculiar thing. As someone who monitors products moving through this revolving-door industry on a daily basis, the things I find every day never cease to amaze me. In the case of E-Charge Wallet, I am once again impressed at the industry's ability to produce so many similar, competing products almost simultaneously.
In other words, E-Charge Wallet isn't the first or only wallet like this currently being advertised. Power Plus Wallet appeared a few months ago, only to morph into Atomic Charge Wallet. Now with E-Charge Wallet it appears that another As Seen on TV marketer is in the arena offering a product with nearly identical features to Atomic Charge Wallet.
The key features of E-Charge Wallet are RFID blocking, a battery charger for devices, a tough aluminum case, and accordion interior organizer… the same features found in Atomic Charge Wallet.
As far as the RFID blocking feature goes, that was a big fad a couple of years ago, until experts began to point out that it was over-blown, and probably not even a real threat. It sounds good in advertising, though.
So we can scratch RFID blocking off of the useful features, which leaves us still with an external battery, accordion interior, and hard shell.
The accordion design and hard shell are going to be hit or miss with consumers. I've owned an accordion aluminum wallet before, and I ended up switching back to a regular wallet because it was perhaps too hard in my pocket. I also wasn't fond of storing multiple cards in the same slot, and I missed having a bill compartment.
If you're in the same boat as me with those gripes, then that leaves the charging feature as the sole useful offering. For that, I will say that E-Charge Wallet is handy to have around in those cases that you need some extra juice for your phone.
I'm not sure if I'd sacrifice the conveniences of my regular wallet to make the switch, even if I were to gain extra battery power for my phone. If you don't mind the aluminum/accordion design, E-Charge Wallet could be an excellent fit for you.
Alternatives
There are several other wallet chargers to be found online. This Nomad Wallet is an example. If you are simply interested in an aluminum wallet that doesn't charge, you may want to pick up this Amazon Best Selling stainless steel wallet for $9.
Your E-Charge Wallet Reviews
What are your thoughts about E-Charge Wallet? Drop a comment below and a star rating above to let us know what you think about it.