Night Sight are HD driving glasses that allow the user to see more clearly at night. Do they really work? Here is my Night Sight review.
Sponsored Links
About Night Sight
Night Sight is a pair of polarized HD glasses for night driving that reduce glare while increasing clarity and contrast. The official product website is getnightsight.com, which was registered in September 2017. The screenshot below shows how the product website looked in November 2017.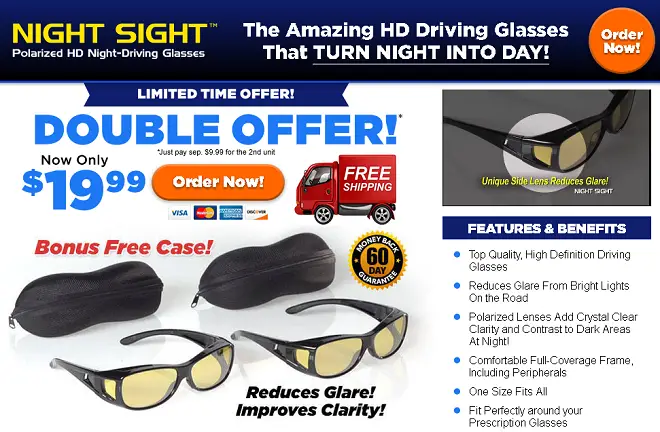 Claims & Features
High definition glasses for driving
Glare reduction
Added clarity and contrast from polarized lenses
Frames are comfortable
One size fits all
Can be worn over prescription glasses
Cost
A pair of Night Sight HD Driving Glasses costs $19.99 + $1 web service fee for a total of $20.99. There is an optional double offer for a separate fee of $9.99 which would bring the total to $30.98. Shipping is free on both offers. Each pair of glasses comes with a hard carrying case and a cleaning cloth. At the time of this writing, Night Sight HD Driving Glasses are not available in stores.
Night Sight Review
If you've seen the commercial for Night Sight and it looked familiar, you aren't mistaken. This pair of polarized night driving glasses is reminiscent of previous offerings in the category from years past.
Sponsored Links
Night Sight are yellow tinted polarized glasses which are specifically designed for use at night. This is a proven and effective way to reduce glare and enhance clarity while driving at night. One nice feature, which isn't found in all night driving glasses, is that Night Sight is designed to fit over existing glasses, an omission with competing products that many consumers have disliked. Night Sight also features a wrap-around style in which a side lens also helps reduce light from coming in through the sides. The Night Sight frame is made of plastic.
The good news is that Night Sight will work quite well to enhance clarity and reduce glare while driving at night. I wouldn't expect miracles, but these types of glasses do help, especially for those who tend to struggle with night driving. The idea of yellow polarized lenses is not new, and in fact Night Sight looks a lot like the HD Night Vision Wraparounds that advertised years ago. You can still find that item online, where it sports a modest 3.5 star rating among well over 1500 reviews. ClearVision Night Optics is another version that looks remarkably similar – and only costs $7.
The potential bad news for Night Sight is that it will be hard to stand out among so many competitors, many of which can be found in stores or shipped immediately via Amazon Prime. There are numerous night driving glasses to be found in stores and online. Another possible negative is that this seems to be a new As Seen on TV item. It has been my experience that new As Seen on TV items are notoriously slow to ship.
You may be interested in my review of Red Shift XT, which is found in stores and enhances color and clarity during the daytime.
Your Night Sight Reviews
Have you used Night Sight or something like it? Leave a comment below and a star rating above to let us know your thoughts.