Slim Control is a seamless shaper that doesn't have bulges or leave lines on your skin. Does it actually work? Read our preliminary Slim Control review.
Sponsored Links
About Slim Control
Slim Control is shapewear that slims and lifts, while providing the same comfort as regular panties. The official product website is slimcontrolshaper.com, which was registered in August 2016. The screen shot below was taken of the product website in December 2016.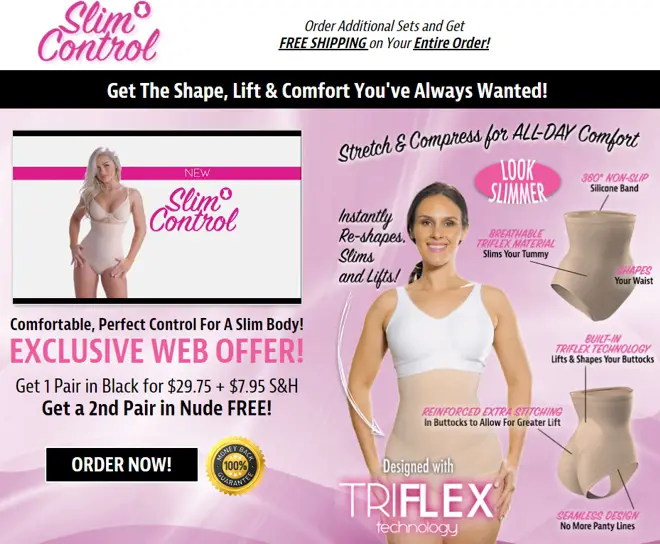 Claims & Features
Look 2 sizes smaller instantly
No lumps, bumps, or muffin tops
No seams, panty lines, or skin marks
Sizes small through 2XL
Nonslip silicone band
Cost
Slim Control costs $29.95 + $7.95 shipping for a total cost of $37.90 This includes one nude and one black unit. As of this writing, this product is not yet available in stores.
Sponsored Links
Slim Control Review
If you've seen the advertising for Slim Control, you've probably wondered what makes this particular shaper stand apart from the numerous others that are already available.
Although at first glance it may resemble a typical shaper, the makers claim that the fabric is lighter, softer, and more comfortable than its competitors. Pinching, bulges, and skin lines are said to be a thing of the past with Slim Control.
We have yet to see this item first-hand, as it is a very new product. We're hoping to get a closer look at the Slim Control shaper, and we'll update this space as more information becomes available to us. With that in mind, there are some observations we do have about Slim Control.
The general design is certainly not unique, nor do they claim it to be. They do, however, claim that the fabric is soft and breathable, yet we aren't told what the fabric is made from – and we've reached out to the company for more details.
Cost-wise, Slim Control falls around the middle of the pack at about $19 each, although you aren't given the option to purchase just one.
Our initial impression is that it looks to be a standard shaper with benefits on par with similar products in this category. If the material is as soft as they claim, however, that could be a compelling factor in why you may want to choose this over other shapers.
Slim Control is a relatively new product, based on its August 2016 website registration date, thus there is little consumer feedback to report. Moreover, new products tend to ship more slowly than their more established counterparts, so you may want to keep that in mind when ordering.
We'll continue to update this page as we get more information.
Alternatives
There have been numerous shapers advertised on television over the past several years. Another recent seamless shaper to hit the airwaves is Comfy Cami, which you can read more about in our review here.
A popular brand of seamless shapers on Amazon is by Camellias Corsets, which cost around $18 – $24.
Television Commercial
Your Slim Control Reviews
Have you used Slim Control? Let us know what you think by leaving a comment below and a star rating above.