Socket Shelf is a combination of a power strip with surge protection and a small shelf. Does it work as advertised? Here is our Socket Shelf review.
Sponsored Links
About Socket Shelf
Socket Shelf is a power docking or charging station that provides 6 outlets, surge protection, and a storage shelf. The official website is buysocketshelf.com, with a registration date of October 2016. The screen capture below was taken of the product website in May 2017.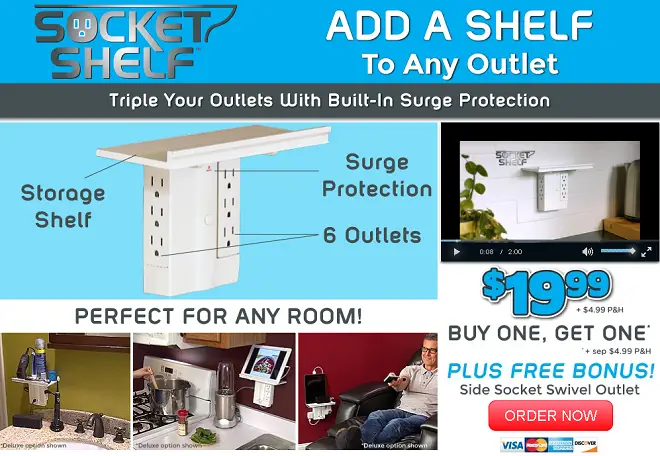 Claims & Features
Establishes additional shelf space near any outlet
Keep accessories organized & off counters
Creates 6 outlets from one outlet
Rotating design
Surge protection built-in
Installation not required
Shelf dimensions = 9 inches by 3.5 inches
Deluxe option includes 2 USB charging ports
Cost
Socket Shelf costs $19.99 + $4.99 P&H + $4.99 mandatory bonus offer for a total of $29.97. There is an option to upgrade to a deluxe model that includes 2 USB charging ports. The deluxe option costs $24.99 + $5.00 for mandatory bonus deluxe unit + $9.98 P&H for a total of $39.97. Each double offer comes with a single side socket swivel outlet.
Sponsored Links
As of this writing, this offer is not available in stores.
Socket Shelf Review
Socket Shelf is a product that combines several ideas into one. There is a small storage shelf than can hold a few items, along with 6 outlets to triple the number of standard outlets. Three of those outlets also swivel. The unit also offers surge protection.
To use Socket Shelf, you simply plug it into any existing outlet. You'll then have access to six outlets and a small shelf. Three of the outlets are permanently on the side, while the other three are on a swiveled section that can face the front or side.
The shelf is wide enough to place a tablet or phone, or a few decorative items. I'm not sure I'd place bottles of liquid on the shelf, as depicted in the advertising, for fear that even a small leak could make its way down into the outlet.
The swivel feature instantly reminded me of Side Socket, an As seen on TV product that was marketed around 2012-2013, and which I still use to this day. The swivel feature is handy, and can allow you to keep cords neatly tucked to the side.
I wouldn't expect the construction of Socket Shelf to be of the highest quality, but it should fit the bill for uses similar to that shown in the advertising. I don't know what the weight limit is for the shelf, but it should hold up to at least a few pounds of weight.
We aren't told if Socket Shelf is UL Listed, which is important to some consumers.
This is a very new item, and it may only be in a test marketing phase to gauge consumer interest. If the price, name, or offer changes, I'll update this space.
I'm not keen on these mandatory double offers, but since it is not yet sold in stores, you may have to bite the bullet if you really want this item.
Alternatives
There are other products out there that resemble Socket Shelf. Take, for example, Power Perch, which costs $11 and has a solid 4.1 star rating among over 200 reviews.
Your Socket Shelf Reviews
What are your thoughts about Socket Shelf? Drop a comment below and a star rating above to let us know what you think about it.