The Loncaster car phone holder is one of five car phone mounts I tried out on a recent road trip from Las Vegas to California. This mount uses adhesive to stick to the dash and display your phone in horizontal mode. Today I offer my review.
Sponsored Links
Where to Purchase & About
I picked up the Loncaster from Amazon for $11.99. At the time of purchase in October 2022, it had a 4.2-star rating among over 35,000 reviews.
This is one of five car phone holders I tried out. Below you can find links to the other four holders I tested out.
Loncaster Car Phone Mount Review
This model by Loncaster is unique among the others I tried because it adheres to the dash and provides a horizontal-only viewing experience. It is made of pliable silicone so it can be attached to curved and textured dashboards. There are cutouts that allow for a cable to be used with your phone if desired.
I peeled off the backing and attached it to my dash before a trip to California from Las Vegas. I placed a phone in the holder and quickly realized this would be one of the easiest mounts to insert or remove a phone compared to the others in my test.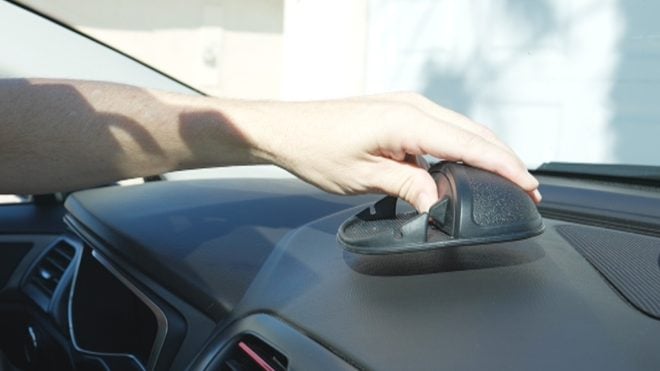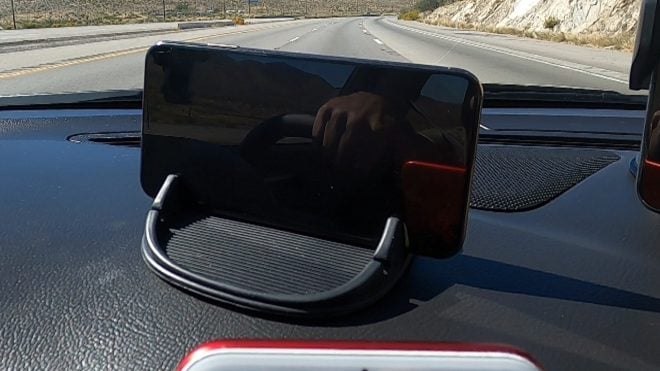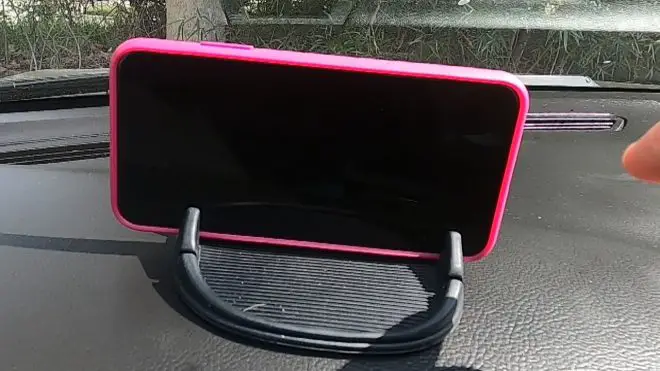 I wasn't sure if the Loncaster would be able to accommodate larger, thicker phones, but it seemed to have no problem with any size I placed in there. I used 5 different models of phones, some with cases and some without, and I found all of them easy to insert or remove from this unit. There are pads that hold the phone in place, but these can be removed if you need extra room, although I never needed to use this option.
For my 235-mile trip to Rancho Cucamonga from Las Vegas, I made stops in Primm, Baker, and Barstow to rotate various phones in all the holders I tested. Throughout my journey, I was quite happy with the Loncaster. There was never a moment when I felt like the phone or the mount itself was unsteady. I put this phone through the gamut from bumpy roads to fast braking, and it held firmly.
The Amazon listing states that this holder can be removed, rinsed, and reused, so I decided to test that out. I removed the Loncaster from the dash – and there was no sticky residue left behind. After rinsing the adhesive bottom and letting it dry overnight, I re-attached it to my dash for my trip back to Las Vegas. Once again, I rotated various phones in and out of the holder throughout my trip, and once again it performed exactly as advertised.
In my nearly 500-mile round-trip test of the Loncaster, I only noticed two minor cons. The first con is that it can only be used in horizontal mode. Those who prefer vertical mode need not apply. The other minor con is that there is no way to adjust the viewing angle. Although I never found this to be a problem, I can see that this might be an issue for some people.
In the end, if you are looking for a horizontal dash-mounted phone holder, you can't go wrong with this cheap and effective model by Loncaster.