Clever Measure is a digital tape measure which provides accurate and clear results. Does it work? Read our Clever Measure review.
Sponsored Links
About Clever Measure
Clever Measure allows you to measure without having to worry about small lines on a tape measure, or converting fractions in your head. The official website is buyclevermeasure.com, which was registered in September 2016. The screen shot below was taken of the product website in December 2016.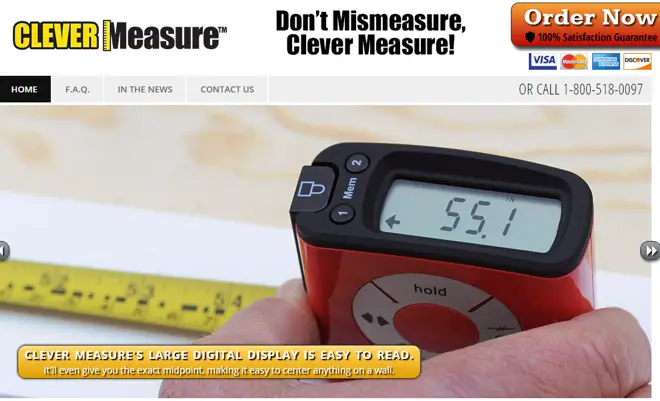 Claims & Features
Large, easy to read digital display
Can set measure point to front or back of unit
Store multiple past measurement readings
Cost
Clever Measure costs $19.99 + $6.99 shipping. You can add a second unit for another $6.99. This brings your total to $26.98 for one, or $33.97 for two.
Sponsored Links
As of this writing, Clever Measure isn't available in stores.
Clever Measure Review
The television commercial makes a compelling sales pitch for Clever Measure, which is a digital tape measure. To use, you simply set your desired unit of measure, and pull the tape as you would with a standard tape measure. The digital readout will show you measurements in real time.
If you often forget to write down your measurements, Clever Measure has a feature that allows you to store recent measurements. Perhaps its strongest feature is the ability to do inside measurements, such as a window frame or door frame. Clever Measure achieves this via a setting that allows you set the outside of the unit as an end point, thus compensating for the width of the device in its final measurement.
There are a few possible limitations worth noting. Although the advertising touts its accuracy, this is one area which is a potential a drawback for the product. Accuracy of the digital readout could be affected by how quickly you pull the tape. Pulling it very quickly, for example, could degrade the accuracy. To achieve the most accurate results, you'll want to pull the tape very slowly.
Overall, Clever Measure is a nifty product, although not perfect. It is an excellent way to find a midpoint, convert units of measurement, and retain a couple of previous measurements. If extreme speed and accuracy are of utmost importance, however, Clever Measure may not fit the bill.
Alternatives
There are no shortages of various digital measuring tapes to be found online and in stores.
Clever Measure looking strikingly similar to a product by eTape16, right down to the color and markings. That product costs about $30 and holds a positive rating among customers who have used it.
Your Clever Measure Reviews
If you've used Clever Measure, give us your thoughts by leaving a comment below and a star rating above.