FIXD is a simple system for diagnosing the check engine light in your vehicle. Does it really work? Here is my FIXD review.
Sponsored Links
About FIXD
FIXD is a combination of an automotive sensor and a smartphone app. The sensor plugs into your vehicle's OBD-II port and syncs to your phone to transmit diagnostic data regarding the check engine light. The official product website is fixdapp.com, which was registered in March 2014. The screenshot below shows how the product website looked in October 2017.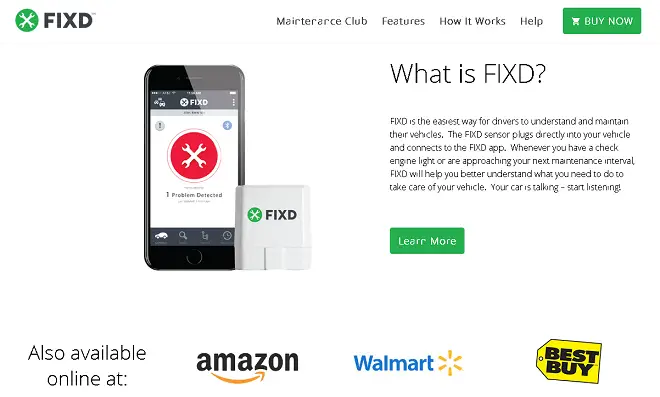 Claims & Features
Provides diagnostic information on vehicle's check engine light
User friendly
One account can include multiple users and vehicles
Convenient maintenance reminders
Keeps your data secure
Sensor does not require charging
Cost
The FIXD sensor and app costs approximately $60. It can be purchased online from the official website and Amazon, or at stores such as Walmart and Best Buy. The official product website includes a couple of special offers such as 2 FIXD sensors for $88 or 3 sensors for $118.
FIXD Review
Anyone who has experienced the dreaded – and unhelpful – check engine light knows the frustration of taking the car to the shop only to find a benign problem that the mechanics found with a simple handheld device. Now with FIXD, you can do the initial troubleshooting yourself and potentially save an expensive trip to your mechanic.
Sponsored Links
FIXD is a Bluetooth device that plugs into the data port on any gas-powered car (including hybrids) with a model year of 1996 or newer. It can be left in the port continuously, or you can simply plug it in as needed. It communicates with its accompanying app that you install on your smartphone. Whenever you have an error, FIXD will read the code and send it to your smartphone. Each error is assigned a severity, such as yellow or red, along with a description of the problem. You can also turn off the check engine light via the app, which is helpful if it seems to be a false positive or if the problem is not of any real concern. Obviously you shouldn't turn off the check engine light and forget about it if a real problem actually exists. I once had a vehicle with a check engine light that came on all the time due to a problem that I had no intention of fixing, so I'd have to get a shop to clear the light for me every time I took it in for an oil change. With a device like FIXD, I could have simply cleared it myself.
In addition to error codes, there are a few other nice features you'll find with FIXD. One is that you'll receive reminders about scheduled maintenance for your vehicle. Another helpful feature is that should you have a problem that needs to be repaired, it will give you an estimate of how much any such repairs should cost. Thus, if the first mechanic seems exorbitant compared to what the estimate is on FIXD, you may want to shop around a bit more.
Although the commercial states that you simply install the app, plug it in, and connect the two, there is a bit more to it than that. There is a code on the device that you'll need to write down and input into the app, and then you'll need to register it, which requires you to have your vehicle's VIN. Once you get it set up, I think most consumers will find it to work quite well. A few consumers have said that FIXD didn't work for them, but the vast majority of users have said that it did perform about as expected.
Alternatives
If you're just looking for an inexpensive OBD2 scanner, this $16 model seems to fit the bill for most people. On the other end of the spectrum is this highly rated $177 model with a full color screen that holds high consumer ratings.
Television Commercial
Your FIXD Reviews
Have you used FIXD or something like it? Leave a comment below and a star rating above to let us know your thoughts.