Gotham Steel Smokeless Grill is an indoor grill that does not produce smoke. Does it really work? Here is my Gotham Steel Smokeless Grill review.
Sponsored Links
About Gotham Steel Smokeless Grill
Gotham Steel Smokeless Grill is a titanium grill with a nonstick surface that stops the formation of smoke with the use of a heated grilling grate and a cool drip pan. The official product website is gothamsmokeless.com, which was registered in May 2017. The screenshot below shows how the product website looked in October 2017.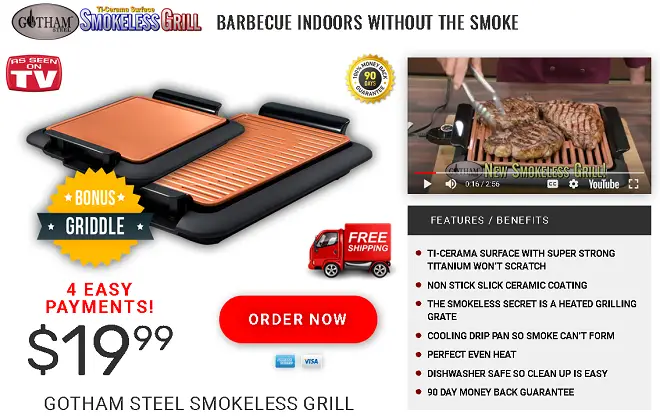 Claims & Features
Made from titanium with ceramic coating
Nonstick and non-scratch surface
Grilling grate is heated to prevent smoke
Smoke is also prevented from developing by the cool drip pan
Surface Heats evenly
Safe to use in dishwasher
90 day money back guarantee
Cost
The Gotham Steel Smokeless Grill costs $79.96. The total is split into an initial payment of $19.99, and three monthly payments of $19.99. Shipping is free. Each unit comes with a recipe guide and a quad kabob. There is an optional offer to add an extra large griddle for an additional $10 which would bring the total to $89.96. I found Gotham Steel Smokeless Grill at a local Bed Bath & Beyond for $79.99 in November 2017. I used a 20% coupon, which dropped $16 off of the price.
Gotham Steel Smokeless Grill Review
Gotham Steel, Copper Chef, Red Copper. It seems that at least one of these brands has a new product out every week. Indeed, the copper bandwagon that filled up last year continues to roll through the late night infomercial universe, and today I'm looking at the Gotham Steel Smokeless Grill.
Gotham Steel Smokeless Grill features their "ti-cerama" nonstick surface, a heated grilling grate, a separate griddle, and a cool drip pan that prevents smoke from forming. To use Gotham Steel Smokeless Grill, you simply turn it on, set the heat dial, and allow it to warm up before placing your food on the surface. When fat and oils drip from the food, they fall onto a pan below that is away from the heat, thus the amount of smoke is said to be minimal.
Sponsored Links
The size of this grill could be seen as a pro or a con. It's not as large as other grills in its price range, with a capacity of about 6 hamburgers or 2-3 steaks. For those cooking for only one or two people, that is not a problem. Its small size could also be preferable to something like the Philips Smokeless Indoor Grill (see below) which may have a larger capacity, but it also takes up much more room to store. The size of the grill itself is 10.75 x 12.75.
I picked up a Gotham Steel Smokeless grill at a local Bed Bath & Beyond for $80 and used a 20% coupon to drop $16 off of the price. In my video below you can see the results of my tests, which I will also summarize here.
When I tried four quarter pound hamburger patties, there was a fair amount of smoke, although it was less than you'd get with an outdoor grill or frying them indoors. The same could be said for the steak I made, too. Cleanup after the hamburgers was a snap, but after the steak I noticed some residue that was somewhat difficult to remove. With the burgers and the steak, there was only minimal splatter, which did reach the surrounding counter.
Next up was salmon and shrimp, and again the shrimp started to stick in the middle where the steak had been. Everything on the outer edge (where the steak had not been) did not stick. The drip pan and black base were easy to clean, and I ended up placing them in the dishwasher where they held up fine and came out in like-new condition.
For my test of the griddle, I made sausage, bacon, and an egg. One peculiar thing I noticed is that the bacon toward the center seemed to cook more quickly than the bacon toward the edges, which means I had to rotate them. With the griddle, because everything was cooking in its own grease, I experienced far more splatter than with the grill.
If you look at the box, the product is spelled "Smoke-Less" and not "Smokeless" which to me is no accident. I believe the name implies a grill with less smoke, not completely smokeless. I do think that the amount smoke produced by this grill is acceptable.
What is not acceptable, however, is how quickly the nonstick surface degraded. I have numerous products using this new generation of nonstick coating, and it has been my experience that you have to baby such coatings, including low heat and non-abrasive cleaners. The problem here is that you need high heat in order to grill some foods – like hamburgers and steak. Compounding the problem is that the grill and griddle can't be submerged in water, so you can't soak them in order to dislodge residue.
In short, I feel that the claim that it produces less smoke is accurate, but the nonstick coating seems destined to fail rather quickly under the high heat of the grill.
Alternatives
The Philips Smokeless Indoor Grill is probably the gold standard in this category, currently listed as an Amazon's Choice for $279.95, with a 4.2 star rating. This Hamilton Beach Indoor Grill costs costs about the same as the Gotham Steel grill, and it sports a high rating among customers who have purchased it. This $87 stand-up indoor/outdoor George Foreman Grill is a #1 Best Seller with an impressive 4.5 star rating among thousands of reviews.
Video Review
Below is my full video review of Gotham Steel Smokeless Grill, in which I make hamburgers, steak, sausage, salmon, shrimp, eggs, and bacon.
Television Commercial
Your Gotham Steel Smokeless Grill Reviews
Have you used Gotham Steel Smokeless Grill or something like it? Leave a comment below and a star rating above to let us know your thoughts.