Stain Stompers are stain removing pads for carpets.
Sponsored Links
About Stain Stompers
Stain Stompers is an easy alternative to removing stains without having to scrub on your hands and knees.
The product website is getstainstompers.com, which was registered in July 2015 . The screen capture below shows the official website in August 2015.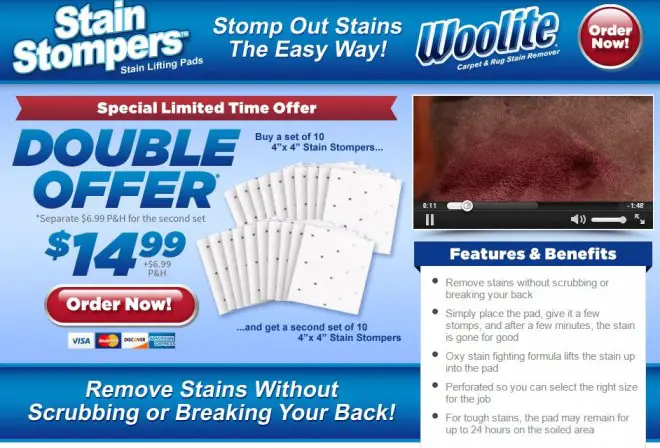 Sponsored Links
What They Claim
Removes stains without having to scrub
Place the pad down, apply pressure, and after a few minutes, the stain is gone
Oxy stain fighting formula
Perforated; able to select the appropriate size
For tougher stains, the pad may remain up to 24 hours on the stained area
Size: 4″x4″
Stain Stompers Cost
$14.99 + $6.99 processing and handling, and an additional $6.99 for the second "free" set; can't opt out of second free set
Reviews
Anyone who has ever tried to scrub a stain has probably been met with criticism telling them that scrubbing isn't the proper way to address a stain. Placing an absorbent material over it and applying pressure is better, and doesn't spread the stain around.
Thus, the makers behind Stain Stompers have taken this sage advice and created this product. This special pad includes a "stain fighting formula" by Woolite – which they repeat several times during the advertising. Just place it on the problem area, step on it, and the stain will supposedly be lifted.
Stain Stompers is new as of this August 2015 writing. While there is a commercial created for it (see below), it appears that only minor internet advertising has thus far been run.
Stain Stompers is a good idea which may have a place in the home, rather than using towels or other materials which aren't really designed for such a use. The steep shipping makes it more of a borderline recommend, but when it becomes available in stores, this will be worth picking up.
Your Stain Stompers Reviews
Let us know what you think of Stain Stompers by leaving a comment below and a star rating above.