Trix Trux is an As Seen on TV monster truck for kids that can perform a variety of tricks. Does it really work? Here is my Trix Trux review.
Sponsored Links
About Trix Trux
Note that as of this January 2022 update, Trix Trux are no longer sold.
Trix Trux is an As Seen on TV monster truck that uses a set of ramps and tracks to perform flips and other stunts. The official product website is trixtrux.com, which was registered in May 2017. The screenshot below shows how the product website looked in October 2018.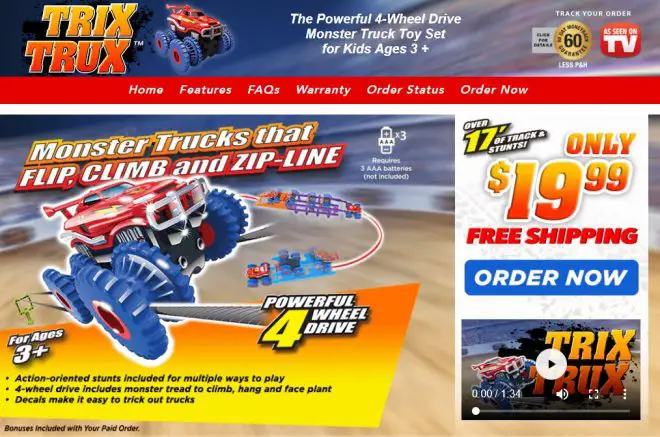 Claims & Features
Over 17 feet of track
Multiple ways to play
Flexible, bendable track
4 wheel drive truck
Decals included for customization
Cost
Trix Trux sells for about $20 on the official website and in stores such as Walmart, which is where I purchased mine.
Trix Trux Review
Toys are not as common in the As Seen on TV industry as items such as cookware, but a few times a year you will see a children's product enter the fray, and that is the case with Trix Trux, a monster truck that can perform a variety of tricks using special track and ramps. Trix Trux comes with one truck, three ramps, a zip line accessory, decals, and 17 feet of track.
To use Trix Trux, you simply assemble the ramps, insert three AAA batteries (not included), and connect your tracks however you'd like. I was a bit surprised that the instructions included didn't really go into much detail about how to properly connect the tracks, so I had to view the online manual (which is more extensive than what's in the box) and the official commercial to see how some of the ramps worked. Included in the box, you get ramps such as Tidal Wave, Monster Ramp, and Rumble Road Cliff Hanger. There is also a zip line accessory which allows you to drive your truck on two pieces of string.
Ramp assembly and attaching of tracks are simple and straightforward, and I believe most kids should have no problem attaching tracks together.
The "cons" I noticed were that sometimes the truck doesn't "land" properly after exiting a ramp, and thus does not continue moving along the track. The zip line was probably the most difficult aspect of Trix Trux. Although one side clamps to a table, it is not clear how the other end is supposed to be handled and there is no mention of that in the instructions. When I held that end in my hand, the truck fell off every time. After securing that end (by placing it inside a filing cabinet!), the truck sometimes still fell but seemed to successfully cross the zipline much more often. Another minor con is that the track moves around when the truck moves along it on smooth hard surfaces such as a table, but I found that using Trix Trux on carpet alleviated that problem.
Sponsored Links
With similar products, I've found pet hair to be problematic if it gets into the axles, but that did not happen with Trix Trux, probably because the gap between the wheel and the side of the car is big enough that hair doesn't get caught in there. The wheels do pop off should you need to clean out the area.
Perhaps the biggest "pro" of Trix Trux is that it seems to work most of the time to the point that I don't think kids will care about those cons listed above. It's a well-made product, as it took quite a few falls from several feet up, but kept on rolling.
Despite a few minor flaws, I think Trix Trux offers enough to satisfy the expectations of kids watching the commercials for the product.
Alternatives
Perhaps the best known As Seen on TV product in this category would be Magic Tracks, which I have also reviewed. Aside from the tracks not glowing, Magic Tracks is an otherwise solid offering in the kids As Seen on TV category. Be sure to check out my review of Magic Tracks below.
Television Commercial
Below is an official extended commercial for Trix Trux.
Your Trix Trux Reviews
Have you used Trix Trux? Let me know what you think in the comments below!
Updated January 2022