The Andobil phone mount is a popular car phone holder on Amazon that can be used in three different ways. It is one of the most popular models on Amazon and I tested it out alongside four other holders to see how it stacks up.
Sponsored Links
Where to Purchase & About
I bought the Andobil on Amazon for $25.15 in October 2022. At the time of purchase, it had a 4.4-star rating among around 24,000 reviews. As of this writing it is listed as an Amazon's Choice.
This is one of five car phone holders I tried out. Below you can find links to the other four holders I tested out.
Andobil Phone Holder Review
While perusing Amazon in search of five car phone holders, this popular model from Andobil stood out because it offered three different mounting options: dash, windshield, and vent. The fact that it had such a high rating among so many reviews made it a compelling choice.
For windshield and dash mounting options, there is a suction cup that can be locked in place with a lever. The suction cup can also be washed and reused. For vent mounting, you can detach the cradle portion of the mount and attach it to an included vent clip. This clip is loosened or tightened by a nut on the back. The arm that holds the cradle can be extended, however I did not find I needed to use this feature.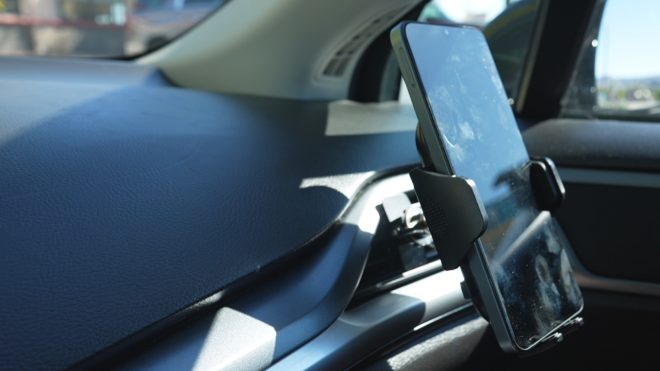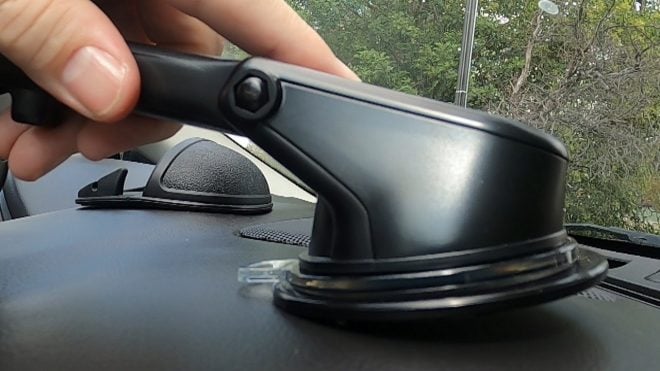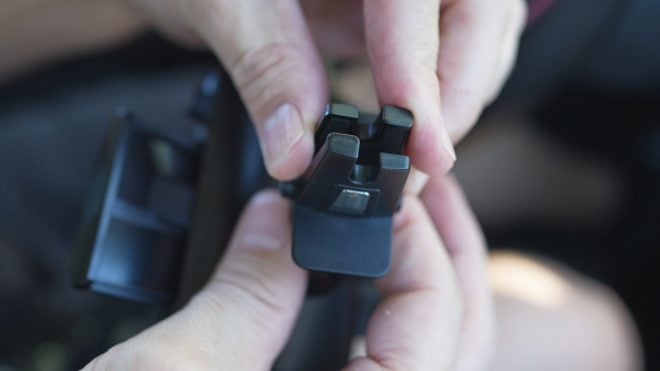 There is an included mounting pad with an adhesive backing for dash mounting. The instructions state that this pad is a one-time use and cannot be reused, and notes that it isn't ideal for curved dashes – and my dash has no flat surfaces at all. I was not fond of the dash pad option, although I did try the Andobil on it. Because the pad is flat and my dash is not, the results were less than ideal. Over the course of my 235-mile journey from Las Vegas to California, the pad began to tilt forward due to the fact that it did not sit flush against my curved dash.
As a windshield mount, the Andobil held perfectly, not only for my trip to Las Vegas, but also while driving around town for several days. Unlike some window mounts, this one did not bounce or shake excessively, even on bumpy roads. Removing it from the windshield is as simple as flipping the lever and pulling the tab on the suction cup.
I also used the Andobil for about 100 miles in the vent mounted option, and it worked about as well as the other vent mounts I tested. The fact that it allows you to tighten it while attached the vent put it ahead of other vent mounts that simply slide over the vent with no adjustment options.
Before heading back to Vegas, I washed the suction cup, let it dry, and affixed the Andobil to the windshield to see how reusable it was. After 130 miles, it still felt as solid as the first time I used it. For the final leg of my journey, I tried attaching the Andobil directly to my dashboard (without the mounting pad). Not only did it hold firmly for the remaining 100 miles, but it continued to work for days afterward, until I removed it upon completion of this review. I left a phone in the cradle for three days with the Andobil mounted directly to my dash, and it held firmly in place.
If you're in the market for a car phone holder, but you're not sure of the type of mounting you want, the Andobil is a great option due to its versatility and performance in all three mounting configurations.