ComfiZip Arch are zippered compression socks that focus on the arch of the foot. Do they work as advertised? Here is our ComfiZip Arch review.
Sponsored Links
About ComfiZip Arch
ComfiZip Arch are comfortable open-toe compression socks that feature zippers on the sides. The official website is comfiziparch.com, with a registration date of May 2017. The screen capture below was taken of the product website in June 2017.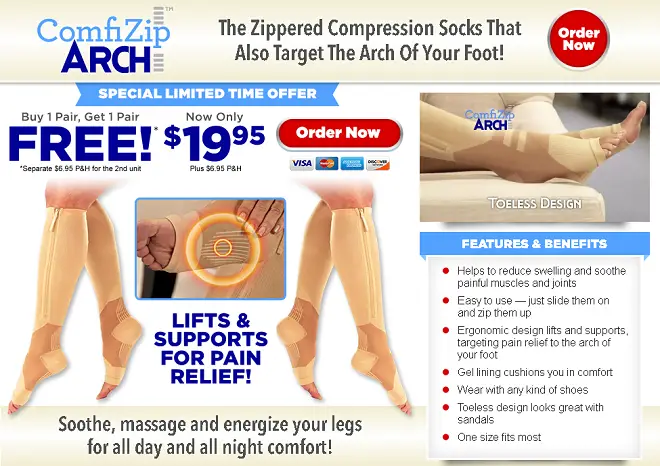 Claims & Features
Reduces swelling & pain in joints & muscles
Simple to use
Targets pain in the arch of the foot with the lift & support ergonomic design
Comfortable gel lining
Compatible with any shoes
Toe-less design
One size fits almost everyone
Cost
There is a mandatory double offer when ordering ComfiZip Arch. They cost $19.95 + $6.95 for mandatory double offer + $6.95 P&H for a total of $33.85. At the time of this writing, ComfiZip Arch is not available in stores.
Sponsored Links
ComfiZip Arch Review
ComfiZip Arch is a pair of zippered compression socks. The advertised benefits are reduced swelling, along with relief for muscle and joint pain, and arch support for your feet. If you've ever used compression socks before, you know that it can be a chore to put them on, so having a zipper can make the task much easier.
The features of ComfiZip Arch cover all of the essential bases. Most consumers should find relief while wearing this item, and the arch support is a great addition to those who also suffer from foot problems. As this is an "As Seen on TV" product, I wouldn't expect the highest quality of materials, but it should be sufficient for most people.
My biggest concern is that of proper sizing, which has been notoriously difficult to achieve with competing compression socks. It can be a fine line between being too tight and not being tight enough. Being able to evaluate these in person would be a nice option, although that is not yet possible because this is only available online.
Another potential concern, which I'll keep an eye out for, is durability of the zipper. I've seen far too many As Seen on TV products fail due to a weak or flimsy zipper. I'm not saying that is the case here, but it is something I'll monitor and update here if consumer complaints come in about it.
ComfiZip Arch doesn't really provide any benefits that are unique, as other zippered compression socks deliver a very similar experience. As of this writing, the product isn't available in stores, which is unfortunate because this is the type of item that is best to see first before purchasing. What may fit one user perfectly, could be too large or too small to another.
I'm also not a fan of mandatory double offers, which is the case here. That means you must pay double shipping or "P&H" costs that are not refundable, even if it doesn't fit properly. I would probably wait until this arrives in stores, if at all. Otherwise, there are several other products you may want to evaluate first.
Alternatives
There are quite a few zippered compression socks on the market, ranging from about $10 – $30. This brand, for example, has a rather popular pair for about $25. You may also recall another As Seen on TV zippered compression sock a few years ago called Zip Sox, which are still available for about $5, and still sold in some stores.
Your ComfiZip Arch Reviews
What are your thoughts about ComfiZip Arch? Drop a comment below and a star rating above to let us know what you think about it.