Restore 4 Power Spinner is a 300 RPM cordless power scrubber with a rotating brush. Does it work as advertised? Here is our Restore 4 Power Spinner review.
Sponsored Links
About Restore 4 Power Spinner
Restore 4 Power Spinner is a rechargeable power scrubber that features a rotating head, three different brushes, and a 3.5 foot extension arm. The official website is buypowerspinner.com, with a registration date of May 2017. The screen capture below was taken of the product website in June 2017.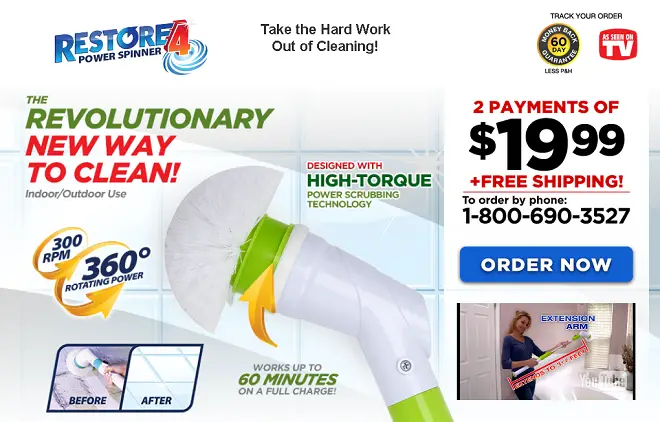 Claims & Features
Cordless & rechargeable power scrubber
Brush rotates at 300 RPMs
Clears up soap, calcium, lime scale, & hard water stains
Clean floors without bending or kneeling
Great for washing cars & tires
Cost
The Restore 4 Power Spinner costs $39.98. The amount can be paid in full or split into two payments of $19.99. There is an optional double offer where a second unit can be purchased for a separate fee of $9.98 which brings the total to $49.96. Shipping is free on all orders. Each Restore 4 Power Spinner comes with a flexible round brush, a rigid flat brush, a cone brush, and an extension arm that extends to the length of 3.5 feet.
Restore 4 Power Spinner Review
Restore 4 Power Spinner is a 300 RPM bathroom and household scrubber. To use Restore 4 Power Spinner, you simply choose one of the three cleaning brushes to place onto the spinning head, and press a button. The spinning action will allow you to scrub around the home, and hopefully lessen your work load. It can be used for floors, bathrooms, windows, and more.
There are three brushes included: a dome brush, flat brush, and corner brush. In my experience with these types of scrubbers, I tend to use the dome brush the most, the flat brush on windows, and I don't usually use the corner brush very often. I've found these corner brushes to fray easily and they don't really dig into the surface like the other brushes.
Sponsored Links
There is an extension arm included, which is a big selling point for these types of scrubbers. Neither my wife nor I use this arm very often because it seems to make the unit less stable. This is because of the rather thin aluminum arm doesn't provide much stability when pressing down a 300 RPM spinner. If you want to clean the side of a bathtub, for example, this arm may be moving around to the point that it becomes a difficult chore.
That said, when I don't use the arm on these types of products, I'm quite happy with the results. I've had many discussions about all of the scrubbers like this with readers here and with viewers on YouTube, and there is no real consensus about them. I think that's because different people have different expectations. I didn't really expect much, so when it did a reasonable job of cleaning tile or around my bathroom, I was impressed. Some consumers seem to watch the advertising and hope this will be a miracle scrubber, which it's not. It's a good tool, but not a miracle. A lot of people have opted for a drill attachment which does the same thing and costs a lot less (see below) over these scrubbers.
You've probably seen a few other highly-marketed products that are nearly identical to this one, including Clorox Scrubtastic, Hurricane Spin Scrubber, and Turbo Scrub. All of these are so close in design that it's nearly impossible to tell them apart. Some consumers have theorized that they are all made in the same factory. I have no evidence of this, but I can see how the stark similarities in style and function would lead some consumer to believe such a theory.
Just because all of these scrubbers are similar doesn't mean they don't work. With all else being equal, I wouldn't pick any of them over the other, although at one point I did choose the Turbo Scrub over the Hurricane Spin Scrubber due to a superior battery. And that leads me to my final point. While I believe Restore 4 Power Spinner will probably perform on par with the others, I don't believe it will beat them. With Turbo Scrub, Hurricane Spin Scrubber, and Scrubtastic all sold in stores, it's hard to justify paying for shipping and wait times for this item, when nearly identical products are readily available nearby.
One more thing to mention is that the commercial shows it being used everywhere from the bathroom to a car. You may want to pick your jobs carefully for this item, because I certainly wouldn't go from my car to my shower in one session. Nor would I go from my bathroom to my kitchen with the same brushes. Because I have several of these scrubbers, I use one primarily for my bathroom, and one for my kitchen. Keep in mind also that to switch brushes, you have to grab them with your hand. Just cleaned around your toilet and now want to switch brushes? Plan on grabbing that brush to change it out.
Alternatives
As noted above, the "Big 3" in this category can easily be found with quick to no shipping. Scrubtastic, Hurricane Spin Scrubber, and Turbo Scrub all cost about the same and can be ordered via Amazon Prime for quick, free delivery.
You may also want to investigate a drill accessory kit which many consumers have chosen to get over a power scrubber.
Television Commercial
Your Restore 4 Power Spinner Reviews
What are your thoughts about Restore 4 Power Spinner? Drop a comment below and a star rating above to let us know what you think about it.